What is a Blue Flag Beach?  Which beaches are included in blue flag beaches of Turkey list ? Where are the cleanest seas of Turkey ? Which seas are the best in Turkey ? How many blue flag beaches in Turkey? What does the blue flag represent ? As Yolcu360 team, we have researched blue flag beaches for you and prepared a detailed article. What do you say to explore the beautiful and clean beaches of Turkey by benefiting from  car hire option?
What Does a Blue Flag Beach Mean?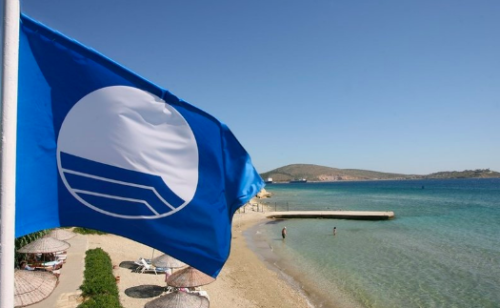 Have you been looking for information on what a blue flag beach means, what are the criterias and where it is located in our country? We have answers to many of your questions about what a blue flag beach means. Blue Flag Beaches in a few words..
What is a Blue Flag Beach?
The Blue Flag Program for beaches and marinas is run by FEE (Foundation for Enviromental Education), an international non-profit organization. The Blue Flag Program was first launched in France in 1985. It has been applied in Europe since 1987 and in countries outside Europe since 2001, the year when South Africa joined. Today, the Blue Flag has turned into a truly global program with an increasing number of participating countries.
The Blue Flag Program supports sustainable development from freshwater and marine areas. Program; It forces local governments and beach businesses to achieve high standards in bathing water quality, environmental management and life safety:  Over the years, the Blue Flag has become a highly respected and well-known eco-label that brings together the tourism and environmental sectors at local, regional and national level.
Click for Kaputaş Travel Guide
Under Which Conditions is Blue Flag Given?
The criteria are classified into two groups as mandatory and advisory guidelines. Most of the criteria are mandatory, meaning that the beach must meet these criteria in order to receive the Blue Flag award. Although compliance is not mandatory in advisory criteria, it is preferred.
Click for Izmır Karaburun Travel Guide
Blue Flag Beaches in Turkey
There are 459 Blue Flag beaches, 22 marinas and 10 Yachts awarded to beaches that meet the necessary criteria in 46 countries around the world. With these rates, we are now the third in the world in Blue Flag Beaches.
Kumburnu Public Beach – Mugla
This beach is used as a face Turkey's tourism abroad. It has been receiving Blue Flag every year since 2005. Kumburnu, which has calm waters of Oludeniz, is 50 meters long. It has rich facilities in terms of accommodation, restaurant and transportation.
Hillside Beach Club – Muğla
The Blue Flag Beach, which belongs to the facility, is located in a magnificent nature in Kalemya Bay surrounded by pine trees. The beach with turquoise colored waters, which can only be used by people staying at the hotel, has a length of 330 meters and a width of 13 meters.
Paparazzi Beach Club – İzmir
The beach, which has won 11 Blue Flag since 2001, is located in Aya Yorgi Bay. Paparazzi Beach Club, which is 125 meters long, promises fun and a good holiday with its concept. Aqueducts on the beach also add visual richness.
Turkey's Blue Flag Beaches List
D- Hotel Maris Bay – Muğla
The 150-meter long beach has been awarded the Blue Flag for the last 10 years in a row. Three restaurants with a la carte concept serve at The Bay Beach, which belongs to the facility. There is a ramp and WC on the beach for the disabled.
Konyaalti Public Beaches – Antalya
Konyaaltı Beach starts from Antalya city center and extends to the shadows of Beydağları. This beach is one of the city beaches that are uncommon in Turkey and  its length is exactly 4500 meters.
Cleopatra West Public Beach – Antalya
It has a length of 200 meters located on the shore in front of Damlatas Cave. The beach has been receiving a Blue Flag since 1999, except for one year.
It is famous for its clear water, fine sand and the swimming here of the Egyptian Queen Cleopatra and the Roman Emperor Antonius.
Apart from the Blue Flag, the beach also has Green Key and ISO 9001 certificates nationally and internationally. The beach, which is five minutes away from the city center, is 110 meters long and 50 meters wide.
Surrounded by lush trees, the beach has been receiving a Blue Flag since 1997, except for one year. The 120-meter-long beach covered with grass, with its ice-cold water, feels like medicine for those who are overwhelmed by the heat. The bay is also sheltered from winds.
Cayiralti Public Beach – Mugla
The 115-meter long beach in Gümüşlük has been receiving a Blue Flag since 2011. Cayiralti, located in the archaeological site,  stands out with its free, fine sandy beach and colorful flowers around it.
Environmental Education and Information
Information on the Blue Flag Program and other FEE eco-label must be displayed on the beach. At least five environmental awareness events in different categories should be held during the season. water quality information (seawater analysis results) must be displayed on the beach.
For beach users, information about the ecosystem, natural sensitive areas, environmental elements and cultural areas in the region should be displayed on the board. A map showing the equipment and facilities available at the beach must be displayed on the Blue Flag Board. Beach codes of conduct prepared in accordance with the laws should be displayed on the board and the laws regulating the use of the beach should be kept in an easily accessible place when required.
Click for the Fethiye Bays and Beaches article.
Swimming Water Quality
The beach must fully comply with the requirements for the sampling method and sampling schedule. The beach must fully comply with swimming water quality analysis standards and requirements for the analysis of samples taken. Industrial and sewage wastes should not affect the beach area. Swimming water values should be within the limits given for microbiological parameters. Swimming water should be within the limits given for physical and chemical parameters.
Environmental Management
A Blue Flag Beach Management Committee should be established at the district level in order to carry out environmental audits and controls on the local government beaches to which the beach is affiliated, and to establish an environmental management system. The beach Must comply with all laws and regulations regarding the use of land and coastal areas in terms of business. Relevant regulations must be followed in the management of sensitive areas.
The beach must be kept clean. Moss and other natural plant remains coming to the beach should be left on the beach as long as they do not create a bad appearance. There should be sufficient number of garbage bins and waste containers on the beach, they should be emptied regularly and kept clean. There should be facilities for separate collection of recyclable waste at the beach.
Sanitary facilities must be kept clean. Sanitary facilities should be connected to the wastewater system. Unauthorized camping, driving and any waste disposal should not be done on the beach. Dogs and other pets must be strictly controlled as they enter the beach.
All structures and equipment of the beach must be well-maintained. If there are marine and fresh water sensitive areas in the region, a natural life monitoring program should be implemented here. Sustainable means of transportation (public transportation, bicycle, etc.) should be encouraged to the beach area and within the town.
Click for Istanbul Sabiha Gokcen Airport car rental prices.
Life Safety and Services
Necessary measures should be taken for public safety. First aid equipment should be available on the beach. Emergency plans should be created to combat pollution accidents and risks. Measures should be taken against accidents that may arise from different uses on the beach. Necessary precautions should be taken for the safety of the users on the beach and free access should be given to the public. Drinking water should be available on the beach. At least one Blue Flag beach in the town should have facilities such as toilets and access ramps for the disabled.