Palma de Mallorca (Palma in Catalan) is a municipality located on the island of Mallorca in the Balearic Islands, an autonomous region of Spain, in the western Mediterranean, close to the eastern coast of Spain. Palma de Mallorca is very popular lately and one of the favorite locations of those looking for a pleasant holiday. We have listed the 5 best restaurants of Palma de Mallorca for you. Cheers in advance!
If you need a ride to discover the best spots in Palma de Mallorca, you can check Yolcu360's Mallorca car rental options and easily rent a car in minutes!
Top 5 Restaurants You Should Visit in Palma de Mallorca
Local Artisan food housed in a fresh avant-garde ambiance. Owned and created by Tomás Tarruella, a Spanish born creative entrepreneur for the last 2 decades, Spot makes up one of the 10 restaurants run under En Compañía De Lobos. All restaurants can be found in Barcelona, Madrid and Mallorca. Described on their socials and website as a cosmopolitan atmosphere with island personality you can find Spot while strolling in the downtown City Center by the marina.
Address :           Plaça de la Verge del Miracle, 3, 07013 Palma, Illes Balears, Spain
What to order:   Cashew cream with fried cauliflower, pizza with spanish sobrasada, honey  & walnuts, or the blue fin tuna tartare with avocado almonds and coconut. CLICK for MENU HERE
Price: Prices range from 7.5 to 21 €
Hours : Restaurant hours: from 1 P.M. to 5 P.M. and from 6 PM to 2 AM
Instagram: @spotmallorca 
2. BOTÀNIC 
Listed by Condé Nast Traveler as one of the 40 most beautiful restaurants in the world and heralded by Elle Gourmet to Esquire, this sophisticated seductive gastronomical restaurant specialized in plant forward dishes. Botànic is also located at the Can  Bordoy Grand House & Garden Hotel, one of the islands Luxury Boutique gems. Run by Chef Andrés Benítez a local of Mallorca, the menu and its savory dishes were inspired by spices from the West to the East stretching from Mexico, Middle East, India and Vietnam. Their sauces from their Mallorcan harvested apricot chutney to their local yogurt Indian Raita sauce are no short of umami and delight. 
Address :   C/ Forn de la Glòria, 14, 07012 – Palma de Mallorca
What to order:    Vietnamese Pizza with Mallorcan Artisan Burrata, KM 0 Chicken charcoal cooked and marinated in peanut butter with vegetable salad. 
Price: Prices range from 6 to 24 €
Hours :  From Monday to Sunday: 1 p.m. – 4 p.m. & 7p.m. – 10.30 p.m.
Instagram: @botanicpalma
For the famished traveler looking for a local favorite with an unfussy vibe where the food and impeccable service are the main characters for the night, Duke is the perfect place. Located in Santa Catalina on Calle Soler 36 by the Marina, Duke focuses on a "simple but not too simple" approach with sustainable fish and local meats. The success of this favorite food haunt is thanks to Greek Chef Ronny Portulidis and Valencian born Jorge Esteve.
Address :  Carrer Soler, 36, 07013 Palma, Illes Balears, Spain
What to order:  Mexican pulled Beef Tacos, Sweet Potato "Patatas Bravas", Korean Shrimp Croquets, Dukes Hamburger CLICK for MENU HERE 
Price: Prices range from 4 to 26 €
Hours : From Monday to Saturday: 7 p.m. – 11 p.m. Closed Sundays.
Instagram: @dukerestaurant
For ultimate foodies looking to dip their pallets into international flavors and try everything from gourmet tapas fusion to pad thai head to one of the three gastronomic markets in Mallorca, Mercat 1930. Opened 5 years ago in 2017 and located in Paseo Marítimo, this mercat features up to 12 food stalls, gastronomy shows and two drink stalls. On street parking available. If full grab a spot at the 24 hour car park 700 meters away.Among Mercat 1930, Mallorca has 2 other markets. One with a library, and the other offering cooking workshops.
For a more historical experience, Mercat de l'Olivar, a municipal market built in the 1950s and remodeled in 2003 is worth visiting. Built with 2 floors, a toy library, and offering hairdresser services and tastings of original mallorcan dishes.
For the classic market, Mercat de Santa Catalina is the perfect choice notorious for its  fresh and local fish and seafood. Here you can sign up for cooking workshops and shop at some of the Outdoor Clothing Markets on Tuesdays and Saturdays. Open 7 a.m. to 4 p.m. Monday through Saturday.
Address: Av. Gabriel Roca 33 Paseo Marítimo, Palma de Mallorca
What to order: Oysters from Daniel Sorlu, Cured Meats, Pintxos, Tex Mex burgers,  Cha Shao Dim Sum to Truffle Omelets. 
Price: Prices Vary per Vendor.
Hours:    Tuesday – Wednesday – Thursday 6:30 to 12 a.m
                   Friday and Saturday 6:30 to 1 A.M.
​                   Sundays from 6:30 to 12:00 A.M
Instagram: @mercat130
For a modern take on some fusion tapas walk to the end of El Borne Street to  Ombu and fancily sip from a fabulous wine list with a front row seat of the Plaza La Reina Water Fountain. This is the place to come for tapas with a sweeping view of the Plaza Fountain.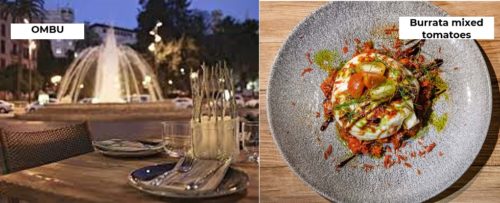 Address: Passeig del Born, 5-7, 07012 Palma, Illes Balears, Spain
What to order:    Stick to the tapas. Patatas Bravas with sobrasada foam and charcoal aioli, Chicken and Pistachio Croquette, Burrata with mixed tomatoes basil and honey oil, Tiradito Ceviche with Passion Fruit Tiger's Milk CLICK for LUNCH & DINNER MENU HERE 
Price: Prices range from 6 to 22 €
Hours : Breakfast 8:30 a.m. – 12 p.m. Lunch 1p.m – 4p.m. / 6:30 – 11 p.m.  
Instagram: @ombupalma