Whether it's a piece of artwork, handmade jewelry or traditional clothing, picking up something to take back home from your holiday in Spain is sure to remind you of the beautiful experiences and memories you've created. Explore attractions, marvel at the sights and pick up some memorable mementos to remember your trip by when you take your next trip to Spain. Here are the best souvenirs from Spain to look out for when shopping.
You can also take a look at Yolcu360's Madrid car rental options and enjoy your journey. Yolcu360 is at your service on many locations at Spain, just check the app or website for more details!
Abaniko
Its intricate designs, often depicting religious symbols and scenes of Spanish culture, have been loved for centuries. This treasured accessory is a traditional must-have for weddings, celebrations and any special days.
These traditional fans are a practical and pretty accessory that have been loved for centuries. Whether used to cool down on a hot day or as an eye-catching accessory for any special occasion, abanico beautifully displays the unique culture of Spain. They are perfect for adding a touch of style and culture to any room, making them an ideal souvenir.
Handmade Swords and Knives From Toledo
These intricately crafted steel weapons from Toledo make a great souvenir for any history enthusiast and serve as a reminder of the region's rich culture and heritage.
Toledo's artisans have been making Damascus steel swords and other items since the Crusades, continuing a tradition of craftsmanship that has become legendary. Their products can be found across the city, with Artesania Moroles SL's kitchen tools and utensils being particularly sought after. These souvenirs make great gifts for history buffs and connoisseurs alike.
Bota
A Bota is a traditional leather wine bottle that is commonly taken on rural journeys from the countryside to the market. Authentic black botas are preferred over touristy pale ones, and often have small drinking holes for squirting the wine directly into one's mouth without having to touch the lips. Learning how to use this unique apparatus can be tricky but enjoyable.
Blue Wine
The result is a refreshing and amazing drink with hints of sweetness and tartness. Blue wine is perfect for giving to friends, family, or even as a special treat for yourself.
Blue wine is a unique beverage from Spain, created by mixing red and white grapes to produce an all-natural drink. This unusual product has been labeled as "blasphemous" by its creators, and has caused some surprise among those in the traditional winemaking industry. If you're looking for something different, it's available in wine shops around Spain, or can be enjoyed at certain restaurants.
Saffron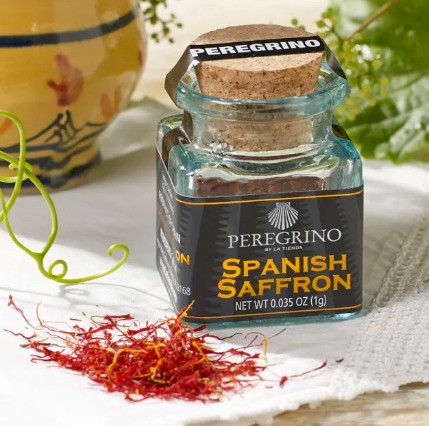 Did you know that Spain is a major source of saffron in the world? Saffron, one of the world's most sought-after and priceless commodities, is derived from the extraordinary saffron crocus (Crocus sativus) which blooms a breathtaking shade of violet. Delicious and affordable, it's the perfect spice to add flavor to your meals. Spain is renowned for their production of saffron, the delicious crimson spice prized for its ability to enhance dishes such as paella, stews, and a variety of meat and tapas dishes. It pairs particularly well with paella, the iconic national dish – an absolute must-try when you're in Spain. Bringing some saffron home with you is the perfect way to remember your trip – and a great way to share your Spanish experience with family and friends.
Castañuelas (Castanets)
Among the many souvenirs one can find in Spain, Castañuelas, a set of castanets crafted from chestnut wood and used by Flamenco dancers, are sure to make a unique keepsake.
A must-have souvenir for any visitor to Spain, Castañuelas are castanets crafted from chestnut wood that make clicking or rattling sounds when held in the hand and struck together. For those with an affinity for rhythm and beat, adding a set of Castañuelas to your Spain souvenirs is sure to make any music lover's heart sing.
Olive Oil
If you're looking for a unique Spanish souvenir to take home with you, why not consider buying some of their amazing olive oil? Not only is it a great reminder of your trip to Spain, but it's also delicious and of excellent quality. Olive oil from Spain is definitely worth trying out!
From the mountains of Asturias to the plains of Extremadura, you'll be able to find high-quality olive oil that is packed with flavor. Whether it's for yourself or for a gift for someone else, Spanish olive oil is a great purchase.
Turron
You're likely to come across the traditional Spanish treat known as turrón while you're shopping in Spain. This sweet, nougat-like delicacy is popular among Spaniards and is often given as a gift or souvenir, especially during the holiday season. Its main ingredients are almonds, honey, sugar and egg whites, which are mixed together and then formed into a rectangular slab. Turrón has been produced in Spain since Roman times and its popularity has spread throughout Europe and beyond, but it still remains an essential part of Christmas celebrations in Spain.
Turrón comes in different varieties depending on the region in which it's made; for example, 'duro' turrón is harder and crunchier than other types due to its higher proportion of nuts; while 'jijona' turrón contains more honey and so has a softer texture. In addition to this there are other variations like 'yema', which includes egg yolks for extra richness; 'turrones de chocolate', which can be filled with chocolate or covered in it; or even 'crema de turron', a creamy version made from ground almonds mixed with sugar syrup.
In recent years, artisan producers have become increasingly popular due to their use of high-quality ingredients and traditional recipes that have been passed down through generations. These gourmet versions of turrón often include unusual flavorings such as rosemary or orange blossom honey that create an unforgettable taste experience.
Flamenco Outfits
Spain is recognized throughout the world for its unique flamenco dance and music. This style of performance is thought to have originated in the Baja Andalucía region in the late 18th century, with theories pointing to Indian classical kathak as well as Afro-Andalusian dancing as major influences on the style. If you're looking for a souvenir from Spain, or just something to remind you of your trip, flamenco costumes and accessories are a great way to go. From dresses and shawls to shoes and castanets – concave wood shells that flamenco dancers use as percussion instruments – the selection of items available in Madrid and Seville is sure to provide something special.
Glazed Pottery
Souvenir shops in Spain offer unique and beautiful ceramics, pottery, and handcrafted items. Look for glazed pottery with Moorish patterns, or opt for the metallic-toned caliph-style ceramics from Málaga. Make your next trip even more memorable by making your own pottery during a visit to a pottery store in Andalusia. Not only is it a fun experience, but you'll also get to chat with local artisans who know the region best!