It snows every winter in Turkey and also in Istanbul! Turkey is a country where you can ski and where there are many very popular ski resorts for national and international ski lovers. Winter in Turkey is quite long and the ski season usually starts in mid-December in Turkey and ends in early April. In fact, the high winter tourist season begins in January, when the snow has started to fall on the high mountains and on some interior areas, therefore the weather becomes great for practicing various winter sports and making extraordinary tourist excursions. In addition, winter in Turkey represents a unique opportunity for those who wish to make cheaper tourist circuits, since the tourist season in summer is much more expensive than that in winter, in addition to several important advantages, such as the lack of congestion at tourist sites and attractions, leading to low occupancy of hotels and tourist facilities. For this, the visit will be cheaper and quieter. If all your ski clothes are ready, Turkey's most popular ski resorts are calling you. We have compiled Turkey's 12 best ski destinations.
Moreover, you can take a look at Yolcu360 Turkey car rental options to easily visit all these places.
Mount Uludağ Ski Resort, Bursa
Fancy a sporting activity outside this season? So set off to discover Uludağ, a very popular winter sports resort. Its ski slopes are located a few kilometers from Bursa and a few hours from Istanbul. The opportunity to surf, slide and fill up with oxygen in a natural environment. Mount Uludağ is located at 2,543 meters above sea level and was once called "mountain of monks". We can say that it is the highest mountain of Western Anatolia (literally: ulu, high, and dağ, mountain). Uludağ is some 35 kilometers from the city of Bursa and about 150 kilometers from Istanbul. Its highest peak is Kartaltepe.
In ancient times, Mount Uludağ was called Mount Olympus. In Greek mythology, it was the place where the gods watched the Trojan War. The name of Uludağ appears around 1925. Uludag today… If you're planning to stay in Uludağ, there's no shortage of hotel resorts (although nights in a hotel room can be expensive in high season). Hotels usually have their own ski lifts. The season starts in December and ends in April.
If you have never skied on slopes in Turkey, you will certainly be surprised: not the slightest presence of safety barriers, no color code (green, blue, red, black) to identify the slopes according to their level? Only a map is available at the entrance to the slopes. The station has more than ten slopes and ski lifts. For the ski lifts, the more time you spend on site, the more interesting the prices become. If you do not have your own ski equipment, you will certainly find what you are looking for at the bottom of the slopes in the many shops specializing in the rental of ski equipment, snowboards, sledges and other clothing.
If you have never skied, teachers will be able to guide you. At the top of the slopes, you will be enchanted by the beauty of the landscape. If you're feeling peckish, pack your own sandwiches and drinks. The products served on site are often more expensive than in town. As an example, and to quote some of the specialties of the mountain, have a sucuk ekmek as for a glass of mulled wine. You can also taste authentic salep.
How to get to Uludag from Istanbul?
If you come from Istanbul, you can take the sea routes, via the ferryboat, or come by road (bus, car). From Bursa, if you have a nostalgic soul, you can enjoy a magnificent panorama of the city by using the cable car (two cable cars, Kadiyayla and Sarialan, and a bus will be necessary to get to the bottom of the slopes and hotels.)
The Ski Resort of Saklıkent, Antalya
Ski resort of Saklıkent, which literally means "the hidden city" in Turkish, lies less than 50 kilometers west of the Turkish Riviera's Mermaid, Antalya, in the Beydağ mountain range. The ski slope is located between 2,000 and 2,400 meters above sea level, and offers a ski area of 10 km.
Ski season in Saklikent usually starts at the end of December until April, when the snowfall is at its peak. For this, Saklikent is a major attraction for tourists from all over the world during this time of every year. In addition, there are chalets, hotels, restaurants and cafes that offer various services to tourists, such as the rental of clothing and ski equipment and equipment, in addition to the training necessary to practice skiing at the help of specialists.
The Ski Resort at Kartepe in Sapanca, Kocaeli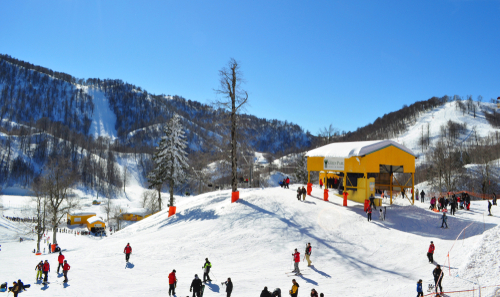 Kartepe, which means kar, "snow", and tepe, "hill". It is a very popular ski resort and highly preferred by tourists, covering an area of 35 million square meters and comprising 17 ski slopes ranging in length from 450 to 3,200 m, in addition to 5 ski lifts, drag lifts and areas for practicing snowboarding. This station is 18 km from Kartepe district in Kocaeli State (northwest) and 40 km from the city center. It is the closest to Istanbul, Sakarya and Yalova (about 1h30 by car). At an altitude of 1,608 meters, Kartepe offers 42 kilometers of skiable slopes. In this vacation spot, one must try the unique experience of climbing to the top of the mountain by the cable car with a majestic view of the mountains at 1,650 meters high.
This resort also provides the training service for beginners and children by specialists, in addition to a rescue team ready on the ski slopes, in order to avoid all accidents and help the injured. There is also a "spa" (health spa), of 2,500 square meters, it is a huge room for renting ski equipment, equipped with cupboards to store visitors' belongings. This spa represents the first destination for lovers of surfing in winter, or for practicing various types of sports, such as football, basketball, volleyball and others in summer. Kartepe Station also contains public parks, such as "Kuzu Yayla" Park and "Ormania" Nature Park. Indeed, the unique experience that one must live in Kartepe is to stay in wooden cabins in the middle of the snow, equipped with all the necessary equipment to offer modern comfort. Every year, the Kartepe resort hosts many local and international snow sports competitions and championships.
The Ski Resort at Palandöken, Erzurum
The Palandöken ski resort is located 5 km from the city center of Erzurum, which enjoys the coldest climate in Turkey, in the village of Başköy at an altitude of 2,100 m, about an hour by plane from Istanbul. This station, created in 1974 for the military, then opened to civilians in 1992, is considered one of the best and longest ski slopes in Turkey. This resort has become very popular in recent years, especially following the organization, in February 2017, of the European Youth Winter Olympic Festival. This resort has 71 km of slopes, including the longest in the country, which is 14 km long.
The Palandöken ski center, located 10 minutes from the city center, is covered in snow for 6 months, and equipped with 8 ski lifts with a capacity of 4,500 per hour. There are also 4 hotels in the mountain, such as Renaissance Polat, Dedeman, Dedeman Lodge and Balan Xanadu Snow White.
The Ski Resort at Kartalkaya, Bolu
Kartalkaya resort, located in the Western Black Sea region, 40 km from Bolu, on the Köroğlu Mountains, is famous for downhill and cross-country skiing, with its surrounding green pine-rich forests. The Kartalkaya ski slopes are between 1,890 and 2,200 meters above sea level, and 40 km long. Located 275 km from Istanbul, 220 km from Ankara and 40 km from Bolu, Kartalkaya is located in the heart of the Köroğlu National Park with its ski resort which is at 2375 meters above sea level. It is a quiet and calm route that you can consider as an important alternative to Uludağ.
The best time to visit it is from mid-December to mid-March. The hotels with a capacity of 1,250 beds provide distinguished services. The installation and the ski lifts are at your disposal with a capacity of nearly 5000 people per hour. In fact, the longest of the tracks reaches 4,000 meters. It is a tourist paradise where you can spend fun times and take picturesque souvenir photos, in addition to practicing various types of activities and events.
Sarıkamış Ski Resort, Kars
The resort of Sarıkamış, which means "yellow reed" in Turkish, is nestled in the heart of a pine forest, located 50 km from Kars, is renowned for the quality of its snow. If you are passionate about off-piste, but beware of the risk of avalanches! The resort offers about 25 km of magnificent and exceptional slopes. It is one of the 2 places in the world where crystal clear snow falls. This station is 55 km from Kars, the ski center is 2800 meters above sea level. Located 45 minutes from Kars airport, the biggest feature of this resort is the crystal clear snow structure, very similar to that found in the Alps. In addition, the facility has 5 different tracks with 12 kilometers in length.
The Ski Resort at Erciyes, Kayseri
Erciyes, an extinct volcanic mountain, is in use until the end of March and it is one of the oldest ski resorts in Turkey. It is the highest point in Central Anatolia and the second highest peak in Turkey at 3,915 meters (the ski area is between 2,080 and 3,340 m). The resort, which offers 112 km of slopes, is about 25 km from Kayseri airport, and about 80 km from the famous attraction, Cappadocia.
Davraz Ski Resort in Isparta
Small ski resort which is located just 26 km from Isparta, has 6 ski lifts, in addition to 25 km of slopes for skiers, which are considered safe and safe from the dangers of loss or avalanches. In addition, this station has developed a lot in recent years. Davraz is nestled in the Lake District. Its facilities and lifts can accommodate 4,000 people per hour, to the ski area that can reach up to 2,100 meters. The center of Davraz offers its services to ski lovers in winter, and includes hotels of 4 stars and less. Davraz resort offers breathtaking views for lovers of pristine nature over the waters of "Eğirdir" lake, valleys and white-robed plateaus.
Elmadağ Ski Resort in Ankara
Only 23 km from Ankara, Elmadağ allows tourists and visitors to relax with family and surrounded by nature and fresh air. The high season is between January and March on the ski area which can reach approximately 900 meters in length and 250 meters in width. You go up using the ski lift whose capacity is 720 skiers / hour. It is a unique experience on the mountain that wears its white dress, that you should live it.
Ilgaz Ski Resort, Kastamonu
Located in Ilgaz National Park, the ski center is between Kastamonu and Çankırı provinces. It was named as Ilgaz Ski Center since it is located on the Ilgaz Mountain at an altitude of 1850 meters. The area where the ski resort is located offers colorful images with the increase in the number of visitors in recent years, and continues to attract the attention of domestic and foreign tourists. While there is a practice track for those who are new to skiing or trying to improve themselves, there are also suitable tracks for those who are professionally interested in skiing. In Ilgaz, which we think should be added to the list for your daily or overnight holidays, you can either snowboard or explore the surroundings by chairlift.
Bozdağ Ski Resort, Izmir
In terms of its geographical location, Bozdağ is the center of attention of local and foreign visitors with its many forested areas, natural beauties, picnic and recreation areas in the town. The opening of the Bozdağ Ski Center, which is considered the Uludağ of the Aegean, has made the region a center of attraction in terms of winter tourism. Bozdağ Ski Center, which is open to tourism both in summer and winter seasons, has the capacity to serve over 15 thousand visitors on holidays. While there are 3 ski areas in the facility, it has become a place that can be preferred by everyone as it appeals to professional and amateur skiers. There are also services such as accommodation, restaurant, cafeteria, viewing balconies within the facility. Mountaineering club members who come to Bozdağ, which supports tourism, where "Mountaineering Festivals" are held in February every year, camp and hike to the summit between these dates.
Hazarbaba Ski Resort, Elazığ
Located 30 kilometers from the city center of Elazığ, offers hotel and restaurant services. Mavi Göl Hotel, which is an indispensable place for those who come in the summer months, has undertaken the management of Hazarbaba ski resort. Hazarbaba ski resort, built on the 2347-meter-high Hazarbaba mountain in the province of Elazığ, provides service with ski slopes, chairlifts and cafeterias. All of the facilities in Hazarbaba ski center comply with the standards. The Hazarbaba ski resort, which salutes the Hazar Lake, which gives life to Elazığ tourism, from the hill at 1850 meters, has been put into the service of the public with its magnificent mountain views. Season opening at Hazarbaba Ski Center usually starts in November. The end of the season is in the spring. For those who want to ski in the winter season or plan a short winter holiday, we recommend them to come to Hazarbaba Ski Center between December and May.