What are the natural wonders of Turkey? What are the natural places to be visited in Turkey? Where are the popular stops for natural beauties of Turkey? You can find answers to many questions like these in this travel article.
Natural Wonders of Turkey
This travel article about Natural Wonders of Turkey was prepared by the Yolcu360 team for you. Are you ready to take off for places to visit in Turkey? Would you want to rent a car to visit the beautiful sights and natural beauties in Turkey in this summer?
Kayseri Sultansazlığı
Sultansazlığı is located on the provincial border of Kayseri. This place is the most wetland in the east of Anatolia. In this respect, it is a fertile region and today it is under natural protection. Its main importance is in the good hours you will spend in this natural area. Because it is very enjoyable to take photos, walk around, breathe fresh air and nature in Sultansazlığı.
Bird Species in Sultansazlığı
Sultansazlığı is among the natural wonders of Turkey. This place provides a large habitat for bird species. Up to now, 400 bird species have been identified in the region. Migratory birds come here, stay and continue their migration.
Sultansazlığı is Under Protection!
Sultansazlığı region in Kayseri is under protection in terms of more than one area. The region has been protected with different statuses such as ramsar area, protected area, wildlife protection area, nature protection area, bird migration route protection area.
Sultansazlığı Natural Habitat is located within the borders of Soysallı village in Develi district of Kayseri. Watching the sunset from here is incredibly enjoyable. You can watch the sunset in Sultansazlığı to spend a romantic evening, relax and give yourself a gift.
Click to rent a car in Kayseri City Center.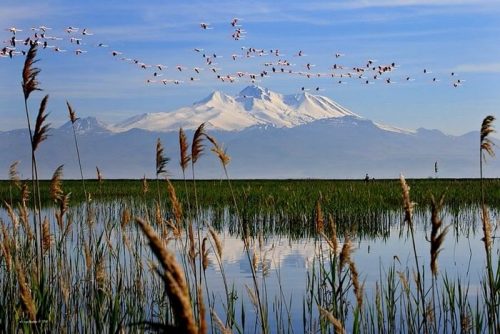 Valla Canyon
Valla Canyon is located in Muratbaşı Village of Kastamonu. This place is one of the natural wonders of Turkey. So, how did Valla Canyon come about, which animal species live here and where is the canyon exactly?
How Did Valla Canyon Come About?
Devrekani Stream and Kanlıçay Stream merged and carved a giant rock. The two hands are united and literally cut the giant boulder in half. From a distance, the canyon looks like a piece of cheese cut in the middle with a knife. The height of the rock walls is exactly 1200 meters.
What Animal Species Live in Valla Canyon?
Hawks, eagles and vultures live in burrows carved into the steep rocks of the canyon. You can capture incredible shots with a remote shooting telephoto lens. If you are lucky, you can even photograph the cubs in their nest.
It is located in the Valla Village in Pınarbaşı district of Kastamonu province. Transportation is not considered very easy. It can waste a lot of time, especially with public transport. But you can reach the canyon with your own car or rental car. You can also camping around the canyon.
The village of Valla under Muratbaşı is located on the hill just before the entrance of the canyon. It's a beautiful village. Roofs of all houses are hipped roofs of red brick. Almost eighty percent of its population has migrated. There are only elderly people in Valla Village today. You can stay in the village, relax and enjoy the surroundings.
Click to rent a car in Kastamonu City Center.
Lake Van
Lake Van is also among the natural wonders in the country. It offers a calm beauty. You also have the chance to swim on the shore. The lake is actually a unique natural phenomenon. This lake, caused by volcanic eruptions, is also important as it is the largest closed basin in the region. Since its water is very hard, it is not very suitable for fishing, but unique species live in the lake. So, what do we know about Lake Van?
Lake Van is the largest and deepest lake in our country. It is located on the provincial border of Bitlis and Van. Being the largest lake in the region and the historical structures on the islands make it valuable. Even if we say that Van owes its development to this lake, we would not be exaggerating. So, how deep is Lake Van or how big is Lake Van? The size of Lake Van is 3,700 kilometers. The depth of Lake Van is 400 meters.
There is so much to see in the lake. Most importantly, it has a magnificent view. A relaxing and peaceful sight. We can list the things to see in Lake Van as follows:
There are Artos, Nemrut and Suphan Mountains around Lake Van. The lake offers a unique view in the middle of these mountains.
Unique places such as Ahlat Historical Site and Akdamar Island are also located in this lake. There are animal herds on its shores and unique historical remains on its islands. There is no road access to some points of Lake Van. Such untouched places are perfect for those who want to be alone with nature.
Akdamar Island in Gevaş district of Van is the largest island on the lake. There is one of the most valuable works of art history and architectural history on the island: Akdamar Church. The church, built of red stone, offers an appearance that depicts the stories in the Old Testament, almost like a photonovel. This church was built in the 10th century and is almost completely preserved.
Akdamar Island is not the only island on Lake Van with a church on it. There is an island called Çarpanak on the east side of the lake. There is the Saint Jean Church on this island. It was also built in the 9th century.
Click to rent a car in Van City Center.

Yerköprü Waterfall
Turkey is a very rich country in terms of both the historical heritage and natural heritage. From this perspective, we have examined the magnificient points in Turkey one by one. We had also a great experience. You can agree with us as you travel, explore, and realize how rich our country actually is. Yerköprü Waterfall is one of these riches. So, what is the feature of Yerköprü Waterfall?
Yerköprü Waterfall is known as the place where two rivers dance with each other. This place is one of the natural wonders of Turkey. Imagine that two streams running parallel to each other, one below the ground and one above the ground. Göksu River comes to the surface at one point by flowing from the bottom. At this point, it is seen that the river flowing from the top pours into the ground as a waterfall. Is there a similar one?
The Karasu River pouring out of the waterfall and the Göksu River gushing from the cave combine at the same point, creating a magnificent lake. The depth of this natural pool is 6 meters. More precisely, its deepest place is 6 meters.
Where is Yerköprü Waterfall?
This magnificent natural phenomenon near the Hadim district of Konya province attracts divers to the region. The distance between Konya Yerköprü Waterfall is 110 km. It is easier to reach Yerköprü Waterfall from Karaman.
How to Get to Yerköprü Waterfall by Car?
Follow the from Konya to Hadim road. Continue on the left 10 km before Hadim. So take the road to Aladağ Village. After 30 km, there is the junction of Bademli Village on the right, continue on this road. After 600 meters, Yerköprü Waterfall will be right in front of you.
Click to rent a car in Konya City Center.
Discover with Yolcu360.com!
The search for "what is Yolcu360.com" is being done quite a lot. Yolcu360 is a platform where you can make online car rental by comparing prices and vehicle features. This platform focuses on getting the cheapest car rental advantage in the fastest way as possible.
Hatila Valley National Park / Highest Glass Terrace in Turkey
Bazgiret Village Travel Guide: Turkey;s Alps / Şavşat / Artvin