The Pamukkale Travertines on the list of Denizli Attractions, will fill your soul with peace with their white look. The Pamukkale travertines that host thousands of tourists every year, are an important place for Turkey in terms of winter tourism. How about hitting the road for Denizli by using the car rental options? If you are looking for alternatives and if you want to discover Aegean Region of Turkey, rent a car İzmir Airport and car rental Antalya Airport alternatives on Yolcu360.com may be helpful for you. Your travel guide for the world's eighth wonder, the Pamukkale travertines, was prepared for you by the Yolcu360 team.
Pamukkale Travertines
The Pamukkale travertines that have been home various civilizations and cultures throughout history, is prominent for its curative hot springs. It was given the name Pamukkale (meaning cotton-castle) because it seems like a castle of cotton with its terrace formations at the side of River Menderes.
How are Pamukkale Travertines formed?
When water and oxygen come together,  the carbon dioxide and carbon monoxide in it degasses from it. As the material transmutes, calcium carbonate deposits and accumulates there. Calcium carbonate, which is at first in soft gel form, later hardens and with the support of the wind, the travertine is formed.  The reason why the Pamukkale travertines draw so many tourists is that nowhere else in the world there is such limestone of picturesque travertines formed thousands of years ago. It was added to the UNESCO World Heritage List in 1988 thanks to its unique beauty and curative waters.
Pamukkale Travertines Tour
The travertines encircled by streets with pillars, hammam houses and temples, are literally a spa town. There are 17 hot water thermals in the travertines. These hot water thermals with degrees varying between 35-100°C, are good for diseases such as rheumatism, nerves, veins and strokes. After benefitting from the Pamukkale hot springs, you can visit the Hierapolic Ancient City, which is thought to be built in the 2nd century B.C. and which ranks first in the Pamukkale Travel Guide, the amphitheatre and archaeology museum.
You can discover the city by walking toward the entrance close to the Pamukkale travertines. Hierapolis ancient city, which is also called the Holy City due to it having religious temples and structures, is like a pilgrimage centre for Christians. The Pamukkale travertines are carry significance for Christians because Apostle St. Philip, one of Jesus' 12 disciples, came to the city to spread Christianity and was later killed by being crucified. After having visited the city, you can go to the place listed in the Denizli travel guide called Cleopatra's Pool, which is believed to have healing features and which has been in use since the Roman period.
How much is the entrance fee to the travertines ?
The visiting hours vary according to two periods. The travertines can be visited between 08:00-17:00 in November to March, and between08:00-21:00 in April to October. You can use the museum pass to enter the travertines. Yet, if you have none, the entrance fee for 2019 is 50 TL.
What to eat in Denizli-Pamukkale?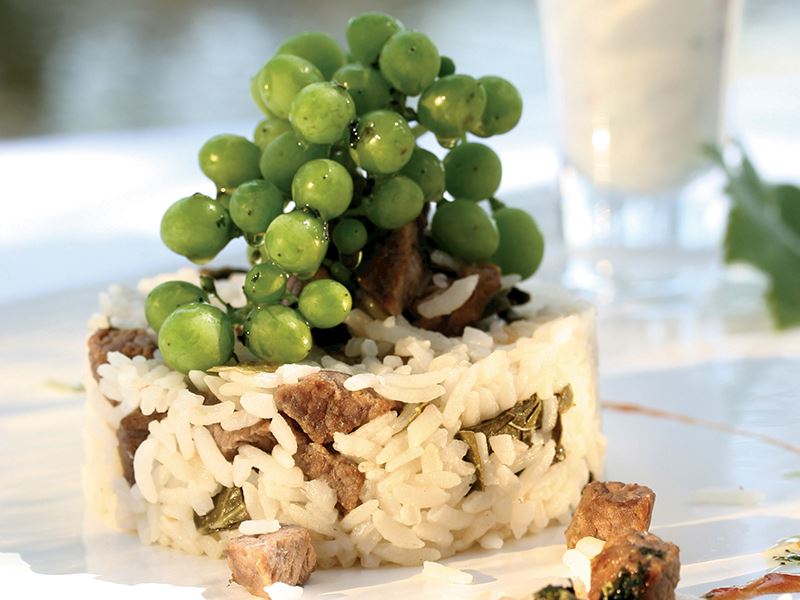 If you wonder what to eat in Denizli,  you can taste various dishes such Çaput Aşı (a type of rice), Tandır Kebabı (lamb kebab), Cowpea, Süller Pide (flat bread with meat) and Mısır Gömbesi (a type of pastry).
Denizli Hotels
If you have come to the city for the Pamukkale travertines, don't worry about accommodation because Denizli has plenty of choices. We prepared a list for you that include also Denizli hostels and Denizli apartment hotels.
Anemon Denizli
North Point Denizli
Şiir otel Denizli
Denizli Pansiyon
Grand Denizli otel
Lavin otel Denizli
Dedeman Denizli
Richmond Denizli
If you come here  in the winter, we suggest you to look also on the Denizli thermal hotels list.
Doğa termal Denizli
Denizli Karahayıt otelleri
Umut termal Denizli
Where are the Pamukkale travertines?
The travertines are 18 kilometres away from Denizli city center. You can find bus services to Denizli from almost every province in Turkey. You can have a look at Denizli car rental services to access the travertines easily and comfortably after reaching the bus terminal. If you prefer airways to go to Denizli and want to continue your journey by car, you can download the yolcu360 app, which will respond to your need of Denizli Çardak Airport car rental, on your mobile phone and travel comfortably with joy.
How to go to Denizli? / Denizli Transportation
How far is Denizli from İstanbul? The distance between the two cities is 588,9 kilometres on the O-5 highway while it is possible to reach Denizli and the Pamukkale travertines in 6 hours and 24 minutes by having a look at the Istanbul car rental options.
How far is Denizli from Izmir? You can cover the road of 240,8 kilometres for the Pamukkale travertines within 2 hours and 56 minutes by using the E87 and Denizli Aydın highway and taking advantage of the Izmir car rental opportunities.
How far is Denizli from Ankara? The distance between Ankara and Denizli is 471,1 kilometres. Those setting off from Ankara to see the Pamukkale travertines, can have a look at Ankara car rental options and reach the city within 5 hours and 37 minutes via the Dumlupınar/D200/E90 highway.
How far is Denizli from Antalya? Those departing from Antalya can view the Antalya car rental options and cover the road of 221,8 kilometres within 2 hours and 54 minutes via the E87 highway.