Would you like to go to food festivals? Does vacation mean trying new dishes more for you? Here are the best food festivals in Turkey!
Take a look at Yolcu360 rent a car options while discovering all these magnificent food festivals in Turkey.
Food Festivals in Turkey
The diversity in the geography of our country has also affected cultural diversity throughout history and a range has emerged, sometimes based on mixed and sometimes original cultures. The flavors of Anatolia have also received their share of this complexity and originality. Many regions have their own cuisine and these culinary cultures have become famous throughout the country and even the world. So, which food festivals are organized in Turkey?
Alaçatı Herb Festival
Alaçatı Herb Festival is organized in Alaçatı town of Çeşme every April. The scope of the festival, as can be understood from its name, is the cooking herbs of the Aegean Region. It is pleasant to have such a festival in our country, which hosts thousands of plant species. Workshops, cooking competitions and nature walks aiming to find herbs in nature are held throughout the festival. If you are interested in dining, traveling, exploring and nature, you may like Alaçatı Herb Festival. For the festival, you can rent a car at İzmir Adnan Menderes Airport and reach Alaçatı in approximately 50 minutes.
Liver Festival in Edirne
Liver Festival is a fun event and appeals to the taste buds. The international festival is held in May every year. The festival aims to revive tourism in Edirne. Edirne's pan-fried liver is the leading role of the festival. During the festival, you have the chance to have fun with local and foreign bands, participate in competitions and events while enjoying the deliciouspan-fried liver.
Cherry Festival in Tekirdağ
The festival has been held since 1962. The name of the festival was different at first. Over time it became known as the Cherry Festival. The event has many pluses such as exhibitions, shows, concerts, and competitions. On the other hand, the festival is held in Süleymanpaşa district of Tekirdağ.
Mesir Paste Festival of Manisa
A tradition that has lasted for almost 500 years has been kept alive with the festival for many years. It is believed that the person who eats mesir paste, which is obtained by mixing 41 different spices, will not get sick all year long. The festival also includes events such as exhibitions, shows, concerts. If you want to go to the Mesir Paste Festival of Manisa, we recommend you to be in March and make sure you don't miss Nevruz.
International Rosehip-Dried Layers Of Fruit Pulp, Culture and Tourism Festival in Gümüşhane
This festival is organized by Gümüşhane Municipality every July. The festival is the first and only international harvest festival of our country. During the festival, which starts with a fun cortege, folk concerts, folklore shows and local food competitions are held.
Şehzade Korkut Summer Festivals and Mushroom Festival in Antalya
The city of Antalya is known to locals and visitors alike for its stunning natural beauty, incredible history, and attractive social culture. Aside from Antalya's famous attractions, the city offers exceptional festivals throughout the year that provide entertainment, education, and cultural experiences to all who attend. One of the most prominent festivals are the Şehzade Korkut Summer Festival and Mushroom Festival. Every year in Antalya Korkuteli, the 4th week of August, the best food, the best mushroom cultivation and photography competitions are held within the framework of the Şehzade Korkut Festivals and Mushroom Festival.
Tarsus Grape Festival in Mersin
The Tarsus Grape Festival, held every year in Mersin, Turkey, is an event that brings together locals and tourists from around the world to celebrate the amazing local grape-picking tradition. The aim of this festival is to introduce tarsus grapes to the whole world, to encourage producers, to contribute to the country's economy, to introduce the cultural values, traditions and customs of the district, handicrafts, weddings, plays, poems, folk songs and folklore values ​​that are about to disappear, and to transfer them to future generations. In addition, it is to ensure that the grape producers integrate with social and cultural activities, receive the reward of their sweat and labor, and unite with technology, industry and science together with the land of farmers.
Apricot Festival in Malatya
Every summer, the stunning city of Malatya in Eastern Turkey plays host to the vibrant Apricot Festival. This annual tradition celebrates the area's world-famous apricot orchards and local produce. Tourists from all over flock to the festival for a full program of activities and events, ranging from fun carnivals to insightful seminars discussing agricultural technology, creating an activity-filled atmosphere throughout the duration of the event. Freshly picked, melt-in-your-mouth apricots make up a beautiful centerpiece at Malatya's Apricot Festival, with vendors coming from far and wide to offer an abundance of delicious treats that can be enjoyed by all attendees.
Ayvalık Olive Harvest Festival in Balıkesir
Every fall, the beautiful city of Balıkesir in Turkey comes alive with the Ayvalık Olive Harvest Festival. This is a time for locals and tourists alike to experience the culture and history of Turkey's olive production on a much more personal level. Attendees get to participate in picking their own olives from the trees, followed by a traditional oil-pressing demonstration that leaves all captivated by its unique process. Delicious meals made with olive oil as well as competitions like an olive-pit spitting contest give people plenty to keep them entertained throughout the day. With much fun and laughter, this annual event is definitely one of the best times of year to visit Balıkesir.
International Gastronomy Festival in Istanbul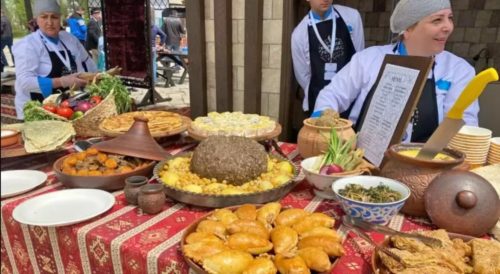 The annual International Gastronomy Festival in Istanbul is a glorious celebration of local, regional and world cuisine. With a variety of activities including cooking classes, gourmet samples, market tours, and restaurant events held around the city, there are lots of things to discover. Guests can sample delectable foods from Morocco to Mexico, Croatia to China. The chefs of Istanbul come together to ensure that the festival provides guests with an unforgettable experience. From beginning cooks just starting out to professional foodie adventurers looking to expand their palate, the festival caters to everyone and exemplifies gastronomic excellence from all around the globe. Don't miss this unique opportunity to savor flavors from cultures near and far.
Orhangazi Olive Festival in Bursa
Held each year in the town of Orhangazi, the Olive Festival is a highlight of the Bursa region. Thousands come from all around Turkey to celebrate and explore local olive-based products and dishes. Not only do guests get to sample varieties of olives like black macerated or green stuffed, but also cookery such as breads made with olives and even a crepe-like dish called yufka that has been made with olive oil for centuries. Beyond their culinary delights, visitors can explore stalls selling related items such as soap and oils, often with demonstrations on how they are made – while live entertainment brings the area alive with celebration. For anyone looking to experience some true Turkish cultural history combined with delicious cuisine and beautiful scenery, look no further than the Orhangazi Olive Festival.
Çamoluk Honey Festival in Giresun
The Çamoluk Honey Festival in Giresun should not be missed by anyone who loves food and culture! Every August, local villagers gather to show off their honey, wax, and hives that have been produced from the fields of linden trees in the area. There is traditional dancing, music performances, and various other activities that are an absolute delight for visitors of all ages. As if that isn't enough allure, merchants from towns throughout Turkey come to sell various types of handmade goods such as pottery and wooden wares. This festival has become an iconic event where visitors come to experience the beauty of Turkish culture and savor delectable flavors of unadulterated local honey. If you want a unique experience with generous hosts and delicious treats then make sure to pay a visit to this incredible festival.
Mengen Cooking and Tourism Festival in Bolu
If you're looking for an exciting destination to explore, Bolu is the place to be. The Mengen Cooking and Tourism Festival held annually in August provides guests with the chance to take part in thrilling activities such as traditional folk dance performances and more. Additionally, visitors can taste delectable dishes from restaurants around town and delight in wandering through local stores that sell handmade crafts and items. Finally, a carnival-style atmosphere featuring stall vendors with unique foods and regional music rounds out this enchanting celebration of Bolu's culture and cuisine. Experience the unique wonders of Mengen by planning a trip today.
Visiting Food Festivals
The festivals we are talking about are events that highlight local flavors in our country. Therefore, we recommend that you take the time to visit these festivals whenever you have the opportunity. We are sure that you will feel the smell of Anatolia's history knitted with local delicacies as well as entertaining activities in festivals where entrance and participation are free.