Marriage, this beautiful promise to live together for the rest of your life, to love and cherish each other unconditionally… It makes you dream! So after the magnificent ceremony, the superb evening, the delicious wedding cake and the photo shoot worthy of a star, comes the most exciting part of this sacred union, especially if you are a travel lover: we have gathered the famous honeymoon destinations.
While discovering all these fascinating honeymoon destinations, you can take a look at international car rental options of Yolcu360!
Amalfi Coast, Italy: A Little Jewel
From Amalfi to Positano, the road is steep but incredibly beautiful. Yes, it's the Mediterranean but the Italian way, incomparable. The light is magnificent, the smells captivating, the gardens to die for with flowering bougainvillea and umbrella pines, lemons and oranges color everything with breathtaking sunsets, the boats, tiny in the distance, recall the fishing villages that we cross, all different and all charming, each in their own way. There are also small coves or half-wild beaches to cool off and practice idleness: quite an art. Amalfi Coast is a place where you can spend your dream honeymoon.
Amalfi is the little jewel of the Amalfi Coast. This former maritime superpower, which had more than 70,000 inhabitants, is today a seaside superpower which has many visitors during the summer season. However, all these tourists do not manage to take away its charm and its relaxed Italian way of life. Wedged between the cliffs and a small cove with clear waters in which the small pastel-colored houses are reflected, Amalfi fascinates all those who venture there.
The Maldives, Paradise on Earth
If you dream of a honeymoon in mode "on the abandoned beach… shells and crustaceans", look no further, the Maldives are the ideal choice! Indeed, with their turquoise sea, golden beaches and breathtaking nature, these islands are a real haven of peace and luxury where it is good to enjoy a stay for two. Ideal for lovers of tranquility and intimacy, the Maldives will offer you a Robinson Crusoe experience in a glamorous version. To make the most of the beauty of the landscapes and nature, we invite you to opt for a water villa, these small houses that are so original and instagrammable.
Paris, France is Always a Good Idea
Oh Paris! City of lights, capital of fashion but above all, the city of love. Although we often forget its romantic potential, the most beautiful city in the world remains a favorite destination for all lovers of the world. Paris is the right choice to celebrate your honeymoon with the one you love. You can meet under the Eiffel Tower, lose yourself in the cobbled streets hand in hand, have a romantic dinner in a fly boat on the Seine, take your picture on the Pont des Amours or even make a wish for happily ever after throwing a coin at the fountain in the Luxembourg Gardens. In short, so many ideal activities for a couple of young brides in search of romance and passion. So, on your marks, ready? Paris!
Venice, Italy: Dove è l'amore
Venice, Italy: Dove è l'amore Nicknamed the city of lovers, Venice remains a must in the list of the most romantic destinations on the globe. Built entirely on water, everything becomes magical in this city, even moving from one place to another and even if sometimes the weather is foggy, it only adds charm to the city. You will love strolling arm in arm with your other half in the mysterious alleys of Venice, visiting the Bridge of Sighs but even more importantly, delighting in Italian specialties in the small bistros and gourmet restaurants. Indeed, what is more romantic than a dish of spaghetti to share for two in homage to the mythical scene of Lady and the Tramp?
Aruba: Where You Can Look at Life in Pink!
Not very well known by the general public, Aruba is nevertheless a true hidden pearl of the Caribbean. Located off the coast of Venezuela, this Dutch island has nothing to envy to other islands much better known touristically speaking. In addition to offering the classic landscape of crystal clear sea and fine sand, Aruba is full of unique little spots that will make your honeymoon a memorable stay. Besides getting a romantic getaway in one of Aruba's adorable casitas, enjoying days at the beach, and exploring the tiny island by car or on foot, you can plan a visit to Renaissance Island where you'll have the joy of swimming with flamingos. One of the most popular attractions on the island of Aruba, but above all an unforgettable experience not to be missed.
Ibiza, Balearic Islands and Its Crazy Nights (and days) for Two
If you want to spend your honeymoon dancing, dancing and dancing again, look no further, Ibiza will have you covered. Proclaimed for several years as the flagship destination of all the greatest DJs, this Balearic island promises you a stay punctuated by the sounds of electronic music and continuous partying 24 hours a day. You can jiggle with your darling in the beach bars during the day and spend your evenings (and whole nights if you wish) in the trendiest nightclubs. A little advice all the same, try to reserve a few moments of respite to enjoy the beauty of the island and its natural reserves.
Las Vegas, USA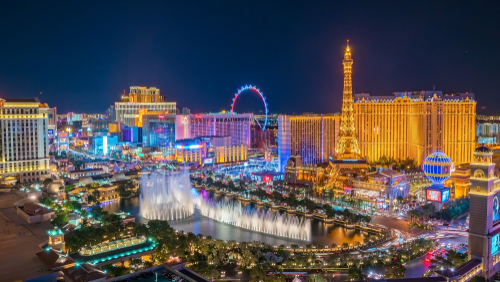 Far from being a conventional destination for a honeymoon, Las Vegas is rather known for its ephemeral weddings celebrated on a whim. Apart from a priest dressed as Elvis Presley, Las Vegas is a city full of original and unique attractions. So if you like the Casino atmosphere, games of chance and other specialties of the city, you will love discovering Vegas with your other half. In addition to evenings spent playing Black Jack and other card games, in Las Vegas you can go out to the most famous clubs but also attend unique shows, made only for the public of the city. It is not for nothing that world stars like Celine Dion or Britney Spears have spent years doing concerts tailor-made for Vegas. In a nutshell, Vegas is the destination for a romantic getaway.
New Orleans, USA for the Love of Music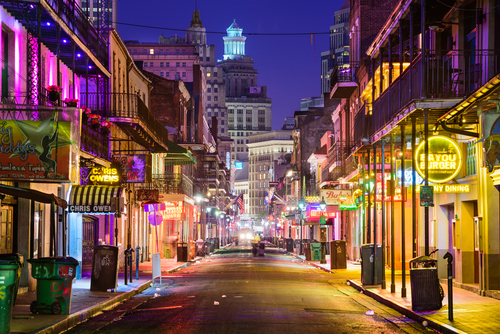 Let's stay in the United States and move to a city at the antipode of the gambling capital, we named New Orleans, Louisiana. More than a classic honeymoon, New Orleans offers you a total immersion in another dimension, a time of yesteryear, the time when only good music, excellent food and a good-natured atmosphere counted.
Rich in history and stories, New Orleans is a perfect destination if you like to party but above all to dive into an authentic atmosphere, far from artifice and glitter. So if you and your other half have a weakness for American music, prefer places where human warmth is required and want to experience an original honeymoon, you won't find a better place than Louisiana to make your wildest dreams come true!
Rio de Janeiro, Brazil: Sunshine and Samba!
Cradle of the biggest carnival in the world, music, dance, colors and festivities of all kinds, Rio de Janeiro is a destination of choice for all couples wishing to celebrate their marriage in joy and good humor. Whether you choose to leave during the high season or not, the 2nd largest metropolis in Brazil will always have more than one trick up its sleeve to impress you.
Indeed, whether it is by participating in the crazy evenings in the streets of Rio, by lounging on its colorful (and calorie) beaches or by strolling in the alleys of Copacabana, you will definitely fall under the undeniable and frenzied charm of this unique city in the world.
Dubai, UAE: The Diamond of the Middle East
Desert, dromedaries and sirocco… With its ultra-modern architecture, its luxurious shopping malls, its population of millionaires, Dubai offers all its visitors a change of scenery, luxury and exoticism, all against a background of Oriental authenticity. So if you and your soul mate want to live an extraordinary experience for your honeymoon, start by visiting the magnificent Dubai Mosque. Then climb to the roof of the world, the Burj Khalifa tower and end your stay with an evening punctuated by the spectacle of the Dubai Fountain. In summary, prepare to have your breath taken away and your eyes full of stars.
Singapore: All the Luxury of Asia, and More
If you haven't already seen/read Crazy Rich Asians, you might not know that Singapore is considered one of the most developed countries in Asia and the world, and therefore one of the most expensive destinations on the planet. And yes, with its huge skyscrapers, futuristic gardens and artificial beaches, Singapore offers everything a couple in love with luxury and modernity can wish for a sumptuous honeymoon.
In addition to its bling bling and avant-garde side, Singapore also has another very traditional facet, where you will have the joy of discovering not one but several cultures: Chinese, Indian, Malaysian… a veritable mish-mash of colors and atmosphere, sometimes urban, sometimes wild. So if you want luxury, exoticism but above all originality, Singapore will make you happy.
The Seychelles, A Land Rich in Emotions
If for your honeymoon you prefer to opt for a destination where beach and relaxation go hand in hand with luxury and voluptuousness, the Seychelles are made for you. Located in the Indian Ocean, the Seychelles archipelago has 115 islands and countless high-end hotels and resorts, ready to welcome you and your sweetheart for a memorably lavish honeymoon. With its tropical climate, its private islands, and its catamaran cruises, the Seychelles are a classic for basking in the sun (beware of the rainy season all the same), enjoying local food or world cuisine, but above all for relaxing. relax and unwind. A real break from the modern world in a luxury version, ideal for resting after the stressful preparations for the wedding.
Iceland: The Fires of Love in the Land of Ice
If the tropics and other sunny landscapes aren't your cup of tea and your darling, you'll definitely love Iceland. Far from being a conventional destination for a honeymoon, this Nordic country is nevertheless a true hidden pearl, especially if your couple appreciates discovery, hiking and the cold. Perfect for lovers of great nature, solitude and a change of scenery, Iceland will conquer your heart with its breathtaking beauty. With contrasting landscapes between frozen fjords and volcanic eruptions, its hot water baths in the open air, but also its dynamic and vibrant capital, Iceland offers you a real breath of fresh air and a honeymoon definitely not like the others.
Australia, Here We Come
For all lovers of unusual travels and a total change of scenery, Australia will be a favorite destination for you and your darling. Especially if you like road trips, desert outings but also paradise islands, Australia offers several landscapes and various circuits to satisfy all your desires for adventure. Combining all the attractions found in a classic honeymoon with much more original options, Australia is the ideal choice for discovering the great outdoors as a couple without compromising on the romantic side of your stay. a honeymoon. A word of advice, remember to book a fairly large holiday balance because Australia is very big and it will take at least 3 weeks to visit all the must-see locations.
New Zealand, A Country of Love
From glaciers to mountains, beaches and volcanoes, the landscapes follow each other and are not alike in New Zealand. So if you are looking for a diversity of panoramas, know that in New Zealand you will be more than satisfied. And it's not just views that change in New Zealand, even the population is diverse. You meet Polynesian Maoris, Kiwi immigrants from Europe, Asians… in short, a real melting pot of cultures with in common kindness and human warmth. We can never tell you enough, New Zealand is the trip of a lifetime.
South Africa for a Love Safari
Notice to all lovers of great nature and wild animals, there will be no better opportunity than your honeymoon to enjoy a trip to South Africa. Synonymous with a change of scenery and romance, South Africa offers you a stay under the sign of discovery and exoticism. On the program, safari, exploration of the savannah and sunbathing days on the paradisiacal beaches. So if your dream as a couple has always been to live a unique and memorable experience, opt for a honeymoon in South Africa. Bonus point, in addition to the wild nature, you will love to explore cities rich in history and taste the great local wines in the heart of the most beautiful South African vineyards.
Ljubljana: A Piece of Slovenia
Nature, modernity, tourism, culture… have you dreamed of it for your honeymoon? Ljubjana promises! Pronounced Lubliana, this city with a magical name will transport you and your significant other for a diversified and activity-rich honeymoon. An ideal destination if you refuse to compromise and want to experience several facets in a single city. In addition to exploring the city by canoe and sipping cocktails on rooftops, you can, if you wish to spice up your stay, take part in rafting and or hydrospeed excursions on the Soca, the zip line in Planica or in the valley of the Soca. Whether you are looking for relaxation or action or even both, know that you will find your happiness on this piece of paradise in Slovenia.
Amsterdam, Netherlands for a Weekend or More If You Like
Perfect for couples who do not have many days off, the city of Amsterdam is the ideal destination for a mini honeymoon that does not lack charm or entertainment. Whether it's strolling along the city's canals, admiring the pretty little houses or strolling the maze of small streets as a couple, Amsterdam will never cease to surprise you and your other half with its romantic architecture and warm atmosphere.
And if after a long day of riding in tandem you feel tired, take the time to sit on one of the terraces by the water to admire the sunset, especially if you have the chance to have good weather. A truly magical moment suspended in time to savor with your loved one.
Djerba, Tunisia: The Island of Dreams
If you want to live the experience of an island without going to the end of the world, but also not to get away from urban life, Djerba remains a very interesting choice. With miles of fine sandy beaches, a crystal clear sea and a sunny climate almost all year round, its sumptuous hotels, Djerba promises you an unforgettable and lively honeymoon. Moreover, with its colorful medina, its souks full of treasures and its small gargottes where it is good to eat briks and other Djerbian specialties, you will not have a moment of respite or the impression of being bored. It is a wonderful island that you will fall in love with.