Asia is a continent filled with spirit cultures, stunning landscapes, and unforgettable experiences. If you're looking for an amazing vacation destination, consider one of the many countries to visit in Asia. From Japan and South Korea to India, China, Indonesia, Thailand, or the Philippines, each country offers its own unique flavor of culture, activities and cuisine that are sure to make your trip the best one. We compile the 10 best countries to visit in Asia for you.
You can easily reach all these beautiful countries with Yolcu360 car rental options, worldwide!
Maldives
The Maldives is an island nation located in the Indian Ocean and is renowned for its stunning white-sand beaches, crystal-clear waters, and lush landscapes. It's a popular destination for honeymooners and adventurers alike. Whether you plan to stay on one of the many resorts or explore untouched areas, the Maldives has something for everyone.
One of the best things about visiting the Maldives is being able to experience its culture. There are plenty of festivals throughout the year where you can watch cultural performances and sample local cuisine. The country also embraces spirituality with a range of pagodas, temples, mosques and churches that offer an insight into its religious beliefs. Shopping is another favorite pastime among tourists in Maldives due to the abundance of street markets filled with souvenirs and handicrafts to bring back home as memories.
Malaysia
Malaysia is a beautiful country filled with incredible natural beauty and diverse cultures. From its stunning beaches, lush rainforests, majestic mountains, and vibrant cities, the country offers the best travel experience. The multicultural society makes Malaysia an exciting destination for travelers looking to experience the many traditions of different ethnic and religious backgrounds. Furthermore, Malaysia's cuisine is among the most varied in Southeast Asia with classic dishes from both Malay, Chinese, Indian as well as indigenous cultures amongst others. Tourists can find numerous attractions along with some of the best food experiences available anywhere in the world. Whether it's sampling street food or enjoying top notch restaurants, there are plenty of opportunities to explore the flavors of Malaysia. Additionally, Malaysia is great for outdoor adventures such as trekking up Mount Kinabalu or exploring one of the many islands off its coast. With so much to see and do here, it's clear why so many people visit this amazing nation each year!
Cambodia
Cambodia is a stunning country that has much to offer visitors from all over the world. Within its borders lies an array of ancient temples, lush jungles, and pristine coastlines – each offering something unique for those who wish to explore it. From the iconic Angkor Wat temple complex to the stunning beaches at Sihanoukville, Cambodia provides plenty of natural beauty and cultural attractions for travelers.
Cambodia's cuisine is also highly diverse, with various influences from the surrounding regions such as China, Vietnam, and Thailand. Visitors can expect to find a range of delicious food ranging from curries and soups to barbecued dishes like skewers and pork cooked over hot coals. The local markets are also great places to try some of the many traditional delicacies available in this beautiful country. Additionally, Cambodia has numerous adventure activities such as mountain biking, kayaking trips down the Mekong River or spotting elephants on safari tours. With so much to offer any traveler looking for an unforgettable experience, Cambodia continues to be one of Southeast Asia's top destinations.
The Philippines
The Philippines is a fascinating archipelago nation, composed of over 7,000 islands. The country offers an abundance of natural wonders as well as some exciting cities to explore. From the beautiful beaches of Palawan and Boracay to the bustling streets of Manila and Cebu, there's something to intrigue visitors of all types. The country also has an incredible array of wildlife, making it a great destination for those looking to catch a glimpse of exotic plants and animals such as the tarsier or Philippine eagle. In terms of culture, the Philippines has been influenced by many different countries over its long history which has resulted in traditions and customs still seen today. From Filipino festivals such as Sinulog to traditional dance performances like Pandanggo sa Ilaw, there's no shortage of things for travelers to experience throughout this beautiful nation.
South Korea
South Korea is a vibrant country, full of modern cities and spectacular natural landscapes. Visitors to the country can expect to experience a mix of traditional Korean culture combined with cutting-edge technology and innovation. The streets of cities like Seoul are filled with bustling markets, trendy shops, and delicious restaurants. Additionally, South Korea has plenty of stunning scenic attractions such as Jeju Island or the DMZ (Demilitarized Zone). These sites offer visitors beautiful views and an insight into the nation's history. In terms of culture, South Korea is home to many ancient temples and museums where visitors can learn more about its cultural heritage. Furthermore, with its thriving nightlife scenes in cities like Busan and Daegu, there's plenty for travelers to enjoy during their stay in this fascinating country.
Indonesia
Indonesia is a nation of stunning beauty and incredible diversity. Comprising over 17,000 islands, the country is the best for travelers of all types. If you're looking for breathtaking beaches such as those found in Bali or the more remote Nusa Penida, lively cities like Jakarta, or large national parks packed with endemic wildlife, Indonesia has it all. The country also boasts a rich cultural heritage that can be seen in its traditional dances and religious ceremonies. Furthermore, with markets offering exotic fruits and spices and an array of delicious cuisines from across the archipelago, Indonesia is sure to provide an eccentric experience for everyone who visits it.
Japan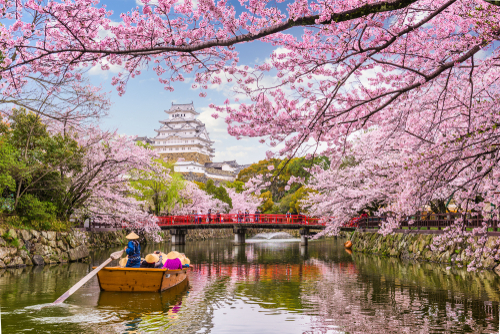 Japan is a charming East Asian country brimming with special culture and natural beauty. From majestic mountains to breathtaking beaches and from vibrant cities to tranquil hot springs, Japan offers a perfect vacation. With a rich cultural and religious history that can be seen throughout the country in its temples, shrines, traditional art forms and cuisine, visitors will find much to explore during their visit.
Japan also has a wide array of activities for those looking to engage in some adventure. From skiing down snowy slopes or white water rafting in the rivers of Hokkaido to climbing the iconic Mount Fuji, there are endless opportunities for thrill seekers in Japan. For those looking for something more relaxed, Japanese onsen (hot spring) towns provide a peaceful atmosphere where one can indulge in some restorative baths while taking in spectacular mountain views.
India
India is a diverse and captivating country full of energetic cities, ancient temples, and spectacular natural beauty. From the Golden Triangle circuit in the north to the idyllic beaches of Goa in the west, India is a land of many wonders that never cease to amaze. Home to one of the world's oldest civilizations, India boasts an incredible cultural heritage that can be seen in its bustling markets, colorful festivals, and traditional dances. Additionally, visitors can explore a variety of national parks filled with diverse wildlife and stunning landscapes. Furthermore, thanks to its sparkling culinary scene, travelers can indulge in delicious dishes from all corners of India as well as other cuisines from around the world.
The history of India is just as fascinating as its present day attractions. From ancient ruins such as those found at Hampi to more recent sites such as Agra's Taj Mahal, there are numerous places for visitors to explore and learn about India's past. In addition to this wealth of history and culture, modern-day India has much for travelers to discover including stylish cities like Delhi or Mumbai with their lively street scenes and entertainment venues.
China
China is a fascinating country with a rich culture and history. Its ancient past stretches back thousands of years and its influences can still be seen today in everyday life. With a population of over 1.4 billion people, it is the most populous nation on Earth. Despite this large population, China remains one of the leading powers in the world with an economy that is constantly growing and evolving. It has an impressive infrastructure, modern cities, and stunning natural landscapes. By balancing traditional values with modern innovation, China continues to show its potential for growth as one of the most important countries in the world.
Thailand
Thailand is a country rich in cultural heritage and history with its stunning beaches and lush jungles. From ancient temples to modern tourist attractions, Thailand has many things to explore. It also boasts some of the best cuisine and shopping in Asia with its special flavors and vibrant street markets. The country's people are friendly and welcoming, always ready to share tales from local folklore and provide travelers with glimpses of a unique culture. Thailand's distinctive location puts it in a prime spot as a gateway between East and West, allowing it to develop into an important hub in the region.