If you ask the best places to be visited in Turkey, our country has many natural and historical riches. However, there are 30 places you need to go to be able to say I have traveled to Turkey. Cüneyt Durhan, the phenomenon traveler of Instagram and author of Gezgininayakizleri account, prepared article named as 30 Top Places to Visit in Turkey for you! How would you rent a car to take off for places to visit in Turkey?
Attractions in Turkey
I brought together for the first 30 place you need to visit in Turkey. I am excited about the values of our country as well as the trips abroad. These lands, which have hosted many civilizations and have wonderful natural beauties, are truly a paradise. The number of places to visit in Turkey very much. You can easily reach all these sightseeing spots by renting a car on Yolcu360.
These magnificent beauties are waiting for you to jump into your rental car from the city of your choice and discover as you please! There is a thought I always advocate. "You must see the heavenly corners of your country before abroad." So, I went, saw and wrote it. I hope that you will make your way to these beautiful places of our country as soon as possible.
30 Top Places to Visit in Turkey
ESHAB-I KEHF / KAHRAMANMARAŞ
Eshab-ı Kehf in Afşin district of Kahramanmaraş should be visited. Also known as seven sleepers and sacred places. It refers to seven faithful young people, known as Yemliha, Mislina, Mekselina, Mernuş, Debernuş, Şazenuş and Kefestatayuş, and their dogs, Kıtmir, who escaped from the persecution of the pagan Dakyanus during the Roman period and took shelter in a cave and were awakened by Allah for many years in the cave. It is one of the historical places visited in terms of religious tourism in our country. I recommend you to read my Kahramanmaraş travel article.
Pamukkale travertines in the Karahayıt region, which is about 15 minutes away from Denizli city center, is one of the most visited places in our country. If you have a museum card, you can visit it for free. Pamukkale is among the privileged ones in my list of 30 places you should visit in Turkey. Hierapolis Ancient City is also located just behind Pamukkale travertines.
Selimiye Mosque, which Mimar Sinan called my masterpiece, is one of the most visited places in Thrace. Inside the mosque, there is also a reverse tulip symbol, which tells the owner to give the land during the mosque's construction.
The meanders are one of the top priority places to be seen in Ordu. The meanders on the Perşembe Plateau are generous to their visitors for nature and photography enthusiasts.
YEŞİLGÖZ POTHOLE / KAHRAMANMARAŞ
The pothole is a great place where you can see many shades of green. It is one of the rare natural places that I am fascinated by when I see it. You should definitely see this place during your visit to Kahramanmaraş.

I think Hagia Sophia is the apple of the eye of Istanbul. Hagia Sophia is the place I enjoy every time I visit. The mosque and museum fascinates people with its history that has survived for centuries.
Historical Peninsula Tour in İstanbul / İstanbul Travel Guide
Click to rent a car in İstanbul
Ephesus is one of the most special for me among the ancient cities in Turkey. Do not return from Ephesus without taking a photo, especially in the Celcus library.
Ephesus Antike Stadt / Ephesus Ruinen / Izmir
ÇANAKKALE MARTYRS / ÇANAKKALE
I think everyone should visit the martyrdom that occurred after a great war. You can visit the historical peninsula with many martyrdoms in one day and understand the old time better.
This place is one of the farthest points in the north where the sunset is another beautiful. I suggest you to see this beautiful place in Persembe district, which has the title of Cittaslow. There is also a church in Cape Yason.
The ancient city of Ani is one of the largest and most impressive historical sites in Turkey. Ani Ruins in Kars should be on your travel list.
Ani Ruins | Ani Castle | History of Ani Ruins
İshakpaşa Palace was one of the places that I had to see before I died and I was impressed by turning my route to Ağrı during my visit to Iran. The palace built on a dominant hill in Doğubayazıt district of Ağrı deserves a visit with a lot.
ŞANLIURFA MUSEUM / ŞANLIURFA
Şanlıurfa Museum is known as the largest museum in Turkey. Many historical artifacts from the Neolithic age to the present are exhibited here. Şanlıurfa Museum deserves praise for this feature. If you come to Şanlıurfa, I would say don't forget to add the museum visit to your travel list.
What is Göbeklitepe? | History of Göbeklitepe
You can even go to Van just to see this place. It is a place that impresses people with its history. I say don't come back without listening to the story of the daughter of a monk and the shepherd living on the island.
Click to rent a car at Van Ferit Melen Airport.
CUMALIKIZIK VILLAGE / BURSA
Cumalıkızık Village is the first settlement of the Ottomans in Bursa. A place where you will not say no to a nice village breakfast in old mansions.
Olympos is one of the most beautiful places in Antalya. You can enjoy your time in the historical ancient city and its wonderful beaches.
Antalya Travel Guide | Things To Do In Antalya
Click to rent a car at Antalya Airport.
PERGAMON ANCIENT CITY / İZMİR
The ancient city of Pergamon is one of the historical places I went for the first time and I have visited most in Turkey. If you go to İzmir, you should visit the historical area consisting of Acropolis and Asklepion. Pergamon is one of the must-see places.
Pergamon Ancient City Trip | Bergama Ancient City
Safranbolu is described as a living Ottoman city. Do you think I am wrong? I live very well in a mansion in this old city, my friend! Safranbolu is one of the most beautiful places in my paradise country.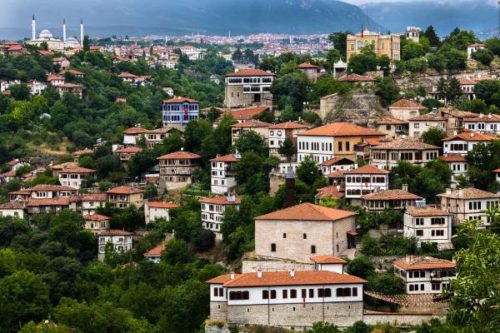 Cappadocia is definitely one of the most impressive places in my country. Balloon tour is one of the best activities to do here. You can bring Cappadocia up and down with a nice 3-day trip.
Cappadocia Sightseeing Tour | Places To Visit In Cappadocia
Balıklıgöl is at the top of the list of places to see in Şanlıurfa, the city of Prophets. One of the must-see places in our country.
ZEUGMA MUSEUM / GAZİANTEP
Gypsy Girl Mosaic is an impressive historical value, although I have seen larger and more magnificent mosaics in Şanlıurfa and Kahramanmaraş. When you see the mosaic exhibited in a special room in Gaziantep Zeugma Museum, you may be surprised because of its small size.
Zeugma Museum / Places to Visit in Gaziantep

You can visit the Greek Castle and Savaşan Village, which was flooded especially due to the construction of the dam, with a 1-hour boat tour departing from Halfeti. Halfeti is one of the 30 special places to visit in Turkey.
Heybeliada is one of the rare breathing areas in Istanbul. It is a great place that you can enjoy during the day. You can also visit the Clergy School at the top of Heybeliada.
Heybeliada Island Travel Guide | Islands of Istanbul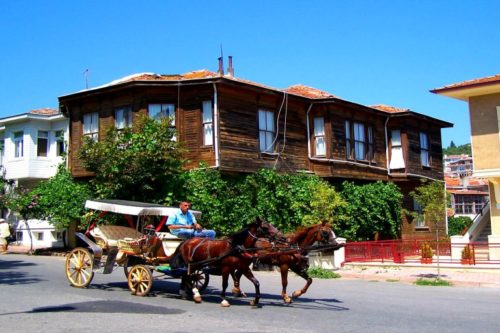 They said travel the world and see Konya. Mevlana Museum is definitely one of the places you should go on your Konya trip. The aura it carries from the moment you enter makes you feel happy and peaceful. Keep in mind, Seb-i Arus ceremonies are held in the last week of December. Please click to read my Konya travel article.
Yedigöller is an amazing place where I am especially fascinated by the color riot in autumn. The photo actually says it all. What do you say, am I wrong? Yedigöller is a place that definitely deserves to be on my list of 30 places to see.
BEYAZID 2nd HEALTH COMPLEX / EDİRNE
I claim it is one of the most beautiful museums in our country. You will be very surprised when you learn about the foresight of medicine in the Ottoman period, like me. I would say don't forget to include Darüşşifa in your list when you visit Edirne.
30 Top Places to Visit in Turkey/ Attractions Map in Turkey
THE ANCIENT CITY OF LEODICIA / DENİZLİ
Leodicia is an amazing historical place. When excavations are completed is said to earn the distinction of being the largest ancient city in Turkey. They are not unfair either. I would like to remind you that the ancient city is on the road to the town of Karahayit in Denizli.
Where is Denizli Ski Center and How to Go?
Amasya is our most preserved and special city that carries the traces of the Ottoman Empire together with Safranbolu. The city divided into two by the river and the tranquility of Ottoman houses and streets. I suggest you go to the castle and see the city from a bird's eye view. Amasya is one of the must-see cities on my list of 30 places to visit in Turkey.
Alaçatı is a beautiful fishing town that you can fall in love with its four-season winds. Alaçatı is the place that attracts people with its historical houses and beautifully decorated shops on the stone streets. I loved it very much.
Click to rent a car at İzmir Adnan Menderes Airport
These are the places that people admire, belonging to the lands of Mesopotamia. These are the places you cannot pass without stopping by when you come to Şanlıurfa, with the historical cupola houses, Old Harran University and castle ruins.
TOPKAPI PALACE / İSTANBUL
In my opinion, Topkapı Palace is one of the most special places to visit in Istanbul, along with Hagia Sophia. It is a wonderful place where you can see the artifacts from the Ottoman Empire that you can enjoy for hours.
Click to rent a car at İstanbul Sabiha Gökçen Airport
Hagia Irene Church Travel Guide: The Venue of Concerts | Topkapı Palace
Şirince is a cute village where the apocalypse cannot be experienced. A few years ago, many people flocked to this village with the knowledge that the apocalypse would happen in this village according to the Mayan calendar. Although I couldn't coincide with the doomsday, it was one of the places I enjoyed most when I traveled. The wines sold as gifts are worthy of praise. Şirince is also included in my list of 30 places to visit in Turkey.
Şirince Travel Guide | Things To Do In Şirince
30 Top Places to Visit in Turkey – Hope you discover.