⏱:
4
dk
Heybeliada is one of the preferred attractions in Istanbul for picnics in spring or swimming in the summer. Our traveler couple Merve and Furkan visited, saw and wrote about this beautiful sightseeing place for you. While reading Heybeliada island travel guide, we hope you enjoy it.
Heybeliada Island Travel Guide
Heybeliada is the greenest of the Princes Islands. As soon as you get off the ferry, you feel like stepping into peace. Green, blue, dog, cat, Turkish, Greek, and Armenian are all together in Heybeliada. It is much more virgin and calmer than Büyükada. It was named in time because of its distant appearance. It is a great day trip for relaxation and walking around for Istanbulites and of course travelers from outside Istanbul.
We have prepared a wonderful Heybeliada Island Travel Guide for those who are upset that "Winter is coming, we will close home." Do not stay in homes after reading this article.
Click for Historical Peninsula Tour in İstanbul
Places to Visit in Heybeliada Island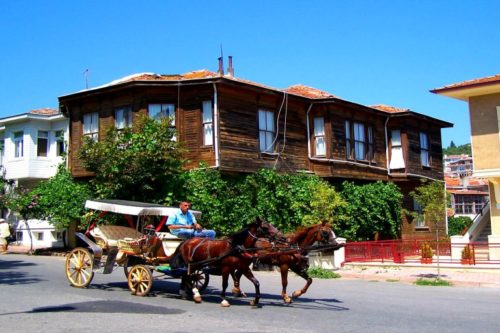 We suggest you come to the island early in the morning. While the crowd has not yet grown, you can travel more comfortably, take pictures, and find much more peace.
As soon as you get off the ferry, buy a bagel from the pastry shop you see. Then rent your bike and start the ride. Since you can sit somewhere and have breakfast all the time, skip it this time. Throw the bagel and cheese duo into your bike's basket, and dive into the greens. While you are going on a bike, you will come across places to visit on Heybeliada Island.
It is also an option to take an island tour with phaeton but we do not recommend it. Of course, the decision is still yours.
Aya Yorgi Monastery, also known as the Cliff Monastery, will enchant you with its location on the edge of the cliff as if it deserves its name. It was built in the 1500s. We would like to make a stop to rest this monastery and see this place.
Heybeliada Clergy School is a little ahead of the Cliff Monastery. This is another historical building. It was built in the 9th century to train clergy. It was then closed. Since then it has hosted events such as festivals and conferences.
Heybeliada Island
Beth Yaakov Synagogue and Hagia Nikola Church are also historical buildings you can visit. The island is home to many churches since it is an ancient Greek settlement. There is also a historical mosque in Heybeliada built in the 1930s.
One of the most interesting and visited points of the island is the İsmet İnönü House Museum. İsmet İnönü was retired at his home in Heybeliada with the advice of his doctors who thought that the island air would be good for him as a result of his illness. Furniture that Atatürk gave to him, the items he used, and many photographs are exhibited in the museum.
Another museum similar to the İsmet İnönü House Museum is the Hüseyin Rahmi Gürpınar Museum. Personal items and archives of the author are exhibited here.
Apart from the historical buildings and museums in Heybeliada Island, Değirmenburnu Promenade is one of the most worth seeing areas. There is an old seaside mill in the lush green pines. The promenade area with many wooden tables around is a meditation place with full headrest.
If your trip to the island coincides with the summer months, you should also include swimming in the German Bay, one of the most beautiful bays of the island.
How to Get to Heybeliada Island?
The only way to reach the island is to travel by ferry. Sea voyages are available from both sides of Istanbul. You can reach Heybeliada in 25 minutes from Bostancı, 40 minutes from Eminönü, and about 1 hour from Kabataş after a ferry pleasure. Do not forget that you will be tired when returning to the island and go to the pier by renting a car. Public transportation on the way back can be difficult for you. For this reason, it is useful to take a look at the prices for car rental in İstanbul on Yolcu360.