What's the best place to visit in Germany? What's the best month to plan a trip to Germany? It's a really hard question to answer and it strongly depends on who's traveling and what they're looking for. Travelers have plenty of reasons to visit this amazing country in winter. From mountains and lakes to vibrant cities, picturesque villages and fairy-tale castles to breath-taking cathedrals and dazzling churches. So, here are 8 best winter destinations in Germany:
Before starting to explore the top winter destinations in Germany, check Yolcu360's Germany car rental options out and rent a car in minutes!

Upper Bavaria
Every year, millions of people come to the south-eastern part of the state, to enjoy spectacular sights like the Zugspitze, Germany's highest mountain at 2,962 meters. In winter, you can also ski on the glacier below the summit.
Another outstanding peak is the Watzmann. At 2,713 meters, it's the third-highest mountain in Germany, towering over the town of Berchtesgaden. Upper Bavaria is also known for its many lakes. The largest is Chiemsee, which has the nickname of The Bavarian Sea. There's also Walchensee, one of the highest and most pristine lakes in Germany.
Above all, Upper Bavaria is a paradise for nature-lovers, especially those who like to experience the world on foot or by bicycle. The Alpine landscapes are spectacular, whether it's the Karwendel or the Wettersteins Mountains.

Munich
Munich is a pretty good destination within germany because it kind of combines a lot of different interests. It has a beautiful old town but is also right by the Alps in case you want to go on hikes or go skiing in the winter or just get some beautiful mountain views. There are also lots of lakes and it's only about an hour away from Austria.

Schloss Neuschwanstein Castle, Hohenschwangau
Especially for people from other continents, European countries are often fascinating from a historical point of view. That's why some of the most popular travel destinations are German castles and palaces. One of the most popular ones is Neuschwanstein.
It's the fairy tale castle by king Ludwig that the Disney castle is modeled after.
Nuremberg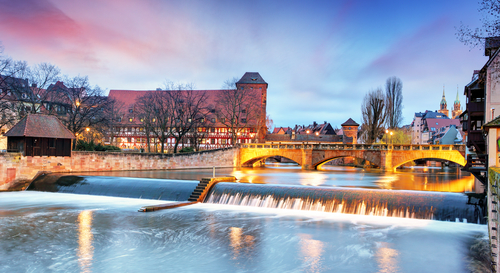 With one of the world's oldest Christmas markets, its famous gingerbread and plenty of family fun. This Bavarian city is ideal for a festive weekend.
Nuremberg is often referred to as "the Christmas City". Thanks in no small part to its dazzling and super amazing Christmas market, which is one of the oldest and most famous in the world dating all the way back to 1530.
There are plenty of German cities to visit but give Nuremberg a try.
Rothenberg
You will feel like you are in a fairy tale when you visit Rothenberg. It is one of the best preserved medieval old towns in all of Europe. In the Middle Ages, Rothenberg thrived as it was located at the crossroads of European trade routes.
At the beginning of the 15th century, it became the second largest city in all of Germany, but in the 17th century Rothenberg faced challenges such as the 30 Years War and the Bubonic Plague.
Berchtesgaden
Berchtesgaden may well be one of the most beautiful cities in all of Germany. It is just two hours' drive from Munich and is located in the Bavarian Alps.
One of the town's best features is Mount Watzmann. It has uniquely shaped peaks towering above the town. It almost looks like someone took a bite out of it. There are many beautiful churches to explore around Berchtesgaden, such as the Maria Gern Church, which offers an excellent view of the Watzmann peaks.
Just south of town is the site of Hitler's former Eagle's Nest bunker. It is now a restaurant with incredible views. The region is filled with stunning Alpine lakes such as the Hintersee, which offer incredible views.
Füssen
The town overlooks the foothills of the Bavarian Alps. Fussing is a 700-year-old medieval city full of worldly charm. Its streets are paved with cobblestones, and you feel like you're going back in time while exploring.
You will also love all the classic German houses. Lack of milky blue river runs right past town. Füssen's crowning feature is the High Castle.
Zugspitze Massif
The Zugspitze Massif is part of the Wetterstein Mountain Range, located on the border between Germany and Austria and surrounded by deep valleys.

Baarish Zugspitze, cog train or cable car can take you to the eastern summit, which reaches an altitude of 2962 meters and is covered with a golden cross. Riding the Zugspitze Bond, the railroad track that leads to Zugspitze station at 2805 meters, is another great opportunity to explore the region's extraordinary natural splendor.

From here, a cable car can be used to continue the journey to Zugspitze west chipful station at 2950 meters.
The options are endless… Here also click to explore the top 6 tourist attractions in Germany!