The summer season in Europe is full of exciting events and activities perfect for anyone looking to enjoy a unique experience. From music festivals to cultural events and culinary adventures, Europe offers some of the best summer events in the world. 
Whether looking for something new or an old favorite, Europe has something for everyone to enjoy. With stunning landscapes, vibrant cities, and a wealth of culture, the region is full of opportunities for the perfect summer vacation. From the beaches of Spain to the ancient streets of Italy, there's a summer event in Europe to suit all tastes.
You can easily rent a car and enjoy your holiday with Yolcu360, world's leading car rental platform, where you can find many different brands and models.
Chelsea Flower Show
Location: London, United Kingdom
22 – 27 May 2023
The Chelsea Flower Show is an event like no other. Held annually in London since 1913, the show showcases the finest horticultural excellence, with beautiful gardens, stunning floral displays, and inspiring landscape designs. The five-day event is held on the grounds of the Royal Hospital Chelsea and draws visitors from all over the world. 
It's an opportunity to see the latest in gardening trends, with over 500 exhibitors showing off their creations. From the traditional to the avant-garde, there are plenty of ideas and inspirations to take away. The show also features a number of lectures and demonstrations, giving visitors the chance to pick up new skills and learn more about plants and gardening. There's also plenty of entertainment, with live music, street performers, and a craft fair.
Kala Festival 2023
Location: Dhërmi, Albania
May 31-June 7, 2023
The Dhërmi Kala Festival 2023 is an exciting event coming up in the small village of Dhërmi, Albania. This unique two-day celebration is held in honor of the city's patron saint and is a great way to experience the vibrant culture and history of this ancient town. 
The festival will kick off on the evening of the first day with a traditional procession through the streets of Dhërmi. Local dance troupes will perform traditional dances, accompanied by a folk band playing traditional instruments. 
After the procession, fireworks will light up the sky as the festival continues with a variety of activities and live music. The following day of the festival will be dedicated to the celebration of the patron saint of Dhërmi. During the day, there will be a variety of religious ceremonies and rituals, as well as performances of traditional music and dance.
Primavera Sound Porto 2023
Location: Porto, Portugal
June 7-10, 2023
Primavera Sound Porto 2023 promises to be one of the most exciting music festivals of the year. Located in the northern Portuguese city of Porto, the festival will run from June 7th to 11th and feature some of the world's best music acts. 
The lineup for Primavera Sound Porto 2023 is still being finalized, but the festival has already announced some of the biggest names in the industry, including The xx, Slowdive, LCD Soundsystem, Arctic Monkeys, The Strokes, and more. The festival is also set to host a number of up-and-coming artists, giving fans the chance to discover new music.
Lido Sounds 2023
Location: Linz, Austria
June 16-18, 2023
Lido Sounds 2023, in Linz, Austria, is a music festival that brings together some of the biggest names in electronic music and other genres. This year's festival promises to be an exciting celebration of music and art, with performances from renowned DJs, live bands, and more.
The festival is set to take place over two days, August 17 and 18, in the city of Linz. This year's lineup will include the likes of David Guetta, The Prodigy, Carl Cox, Armin van Buuren, Sven Vath, and more. There will also be live acts from other musical genres such as hip-hop, rock, pop, funk, and soul.
Ultra Europe 2023
Location: Split, Croatia
7 – 9 July 2023
Ultra Europe is an exciting multi-venue outdoor electronic music festival held in Split, Croatia. Set in the stunningly beautiful and historic city, Ultra Europe attracts thousands of music lovers each year to experience a unique and unforgettable event. 
The festival offers a wide range of music, from the latest in EDM and techno to some of the most legendary names in the industry. The lineup includes some of the biggest names in the world, such as Armin van Buuren, David Guetta, Martin Garrix, and more. 
Beyond the music, Ultra Europe also offers a range of activities and experiences. There are beach parties and boat parties, as well as a series of after-parties and special events. There are also cultural experiences, such as sightseeing tours of the city and its nearby islands. 
The Ultra Europe experience is not to be missed. With its unbeatable lineup, stunning setting, and range of activities, it guarantees an unforgettable time for all.
Zagreb Folk Fest 2023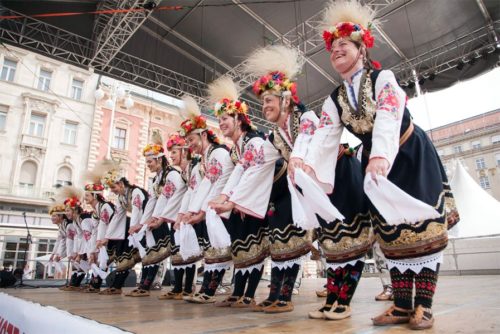 Location: Zagreb, Croatia
19 July – 23 July 2023
The Zagreb Folk Fest is an annual event that celebrates the traditional folk music of Croatia. Held in the historic city of Zagreb, the festival attracts thousands of music enthusiasts from around the world. 
This celebration of folk music is a great way to experience the culture and traditions of the area. The festival typically takes place in July and features traditional folk music from different regions of Croatia. There are performances from both local and international folk bands, as well as traditional music and dance performances. The festival also includes food and drink stalls, as well as stalls selling traditional handicrafts and souvenirs. 
Øya 2023
Location: Oslo, Norway
8 – 12 August 2023
Øya is Norway's international music festival, held every August in the heart of Oslo. Established in 1999, the festival features an eclectic mix of local and international artists, from up-and-coming indie bands to established acts from around the world. 
Øya boasts a broad range of genres, from hip-hop and pop to metal and electronica, as well as a variety of visual art installations and performances. The festival is highly regarded for its commitment to sustainability, having won the Green Operation Award in 2019 for its efforts to reduce its environmental impact. 
Øya has also been praised for its inclusivity, with gender-balanced lineups and a range of activities to promote diversity. Øya is a must-visit event for music fans looking to experience Norway's vibrant culture and vibrant music scene. 
Oktoberfest
Location: Munich, Germany
16 September – 3 October 2023
Oktoberfest is one of the most famous and beloved festivals in the world. It is held annually in Munich, Germany, and draws millions of visitors from all over the world. The event is known for its celebration of German culture, music, and beer. The festival dates back to the early 1800s when the citizens of Munich celebrated the marriage of Crown Prince Ludwig and Princess Therese of Saxony-Hildburghausen. The festivities included horse races, which quickly became a popular tradition. 
In 1810, the festival was declared an official holiday and the celebration of beer was added. Today, Oktoberfest is celebrated for 16 days and features fun activities such as carnival rides, folk music, dance, and of course, beer. The Bavarian beer tents are the highlight of the festival, serving up traditional German beers such as wheat beer and lager. 
Advent Markets
Location: Vienna, Austria
November – December 2023 (various dates)
Christmas is an important holiday in Austria, and the festivities start with the Advent season. During Advent, many towns and cities in Austria come alive with traditional markets or Adventmärkte. These festive markets are a time-honored tradition in Austria and draw in visitors from near and far. 
The markets are filled with stalls selling traditional handcrafts, festive decorations, and delicious treats, like roasted chestnuts, hot spiced wine, and marzipan sweets. You can also find a variety of traditional Austrian Christmas gifts, like nativity sets, wooden toys, and handmade ornaments. Many of these items are made by local artisans, so you can find some truly unique and special gifts.