When most people visit a new country, they would like to buy souvenirs. Are you someone who buys souvenirs for their friends and family? Do you like to taste local pastries or samples of local beer?  If you love to buy, eat, drink and experience the same things as the locals do, this blog post is just for you! Prepare to bring some authentic, high-quality French souvenirs home with you.
You can also enjoy discovering France by choosing Yolcu360 car rental options.
Mini Tour Eiffel
When you're in France, the first things that you can buy are "des souvenirs". The most iconic might be a miniature of "tour Eiffel".  You can find it in a snow globe or as un porte-cles or a bracelet. It's a small souvenir and it will fit in your luggage and be a very direct reminder of beautiful Paris.
Another popular souvenir is "un beret" and it's pretty fun to buy one of them. Honestly, it's not a typical French hat for everyday life and they haven't worn it since the 15th century. However, it's a kind of symbol of French fashion accessories. The most famous one is "le beret basque". This comes from the Basque which is a country in South western France.
Antiquarian Books
In Paris it might feel more authentic to shop around something completely different. For instance, among the stores of "les bouquinistes des quais de Seine". There are second hand book sellers and there are more than 2.000 of them with open green boxes and 3 km of les Seine.
There is even a Unesco World Heritage side. You can buy used or antique books, books of beautiful photos of Paris, posters, art Works as well as journals, stamps and more.
Books from 300 year-old Bookshop
Another place to find what you're looking for is "une librairie".  For example; la Librairie Delamain just behind the Louve Museum and it's a 300 year-old shop. You can even try "un magasin d'art" art shops such as the cute "Slow Galerie".
Luxury Dresses or Clothes
If you have a budget and want to shop high fashion in France such as "la haute couture" for "le haut-de gamme" which is high and luxury. "Le luxe" Luxury goods is a massive French industry like dresses from Dior, Chanel, Yves-Saint-Laurent or the famous silk of "un carre Hermes".
You can also go for other French brands instead. They're less internationally famous but they're not cheap either. However it's more French fashion that French people actually buy clothes from the brands Gerard Darel, Comptoir des Cotonniers, silk of Eric Bompard instead of Hermes.
You can also go for clothes from the French brand "Agnes b" in order to get that black dress that you always dreamt or the perfect white shirt. Kids can dress very well with brands such as Petit Bateau, Jacadi or Bonpoint.
Parfume  (Un Parfum – L'eau de Toilette)
If you want to buy something from very high and famous Luxury brands, you can also go for a parfume (un parfum).
Le Macaron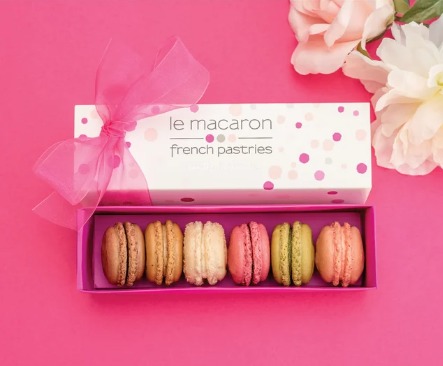 There is another way to taste French luxury without spending all your money. It is with the famous "le macaron". The most famous brand obviously is "Laduree" with their giant golden shop only in Sanzelize. However, you can find this brand all over the world already. You'd rather get your macaron from "Pierre Herme". They have surprising flavors like Jasmine. You can also buy your macaron from a French supermarket like Monoprix. 
French Cans
Actually buying souvenirs from the supermarket is underrated. There're easy ways to find spices, sauces and lots of French products that are very easy to travel with. Okay, they may be less authentic but they might fit your luggage better.
You can buy "des boites de conserves"  (cans) like Gratin Daupinois or Petit Sale Aux Lentilles (It's a dish with salted pork, carrots and lentils with sauce). Some brands that you can find in supermarkets also tend to be more authentic than what you might expect. With brands such as Reflets de France from  Carrefour Supermarket for instance.  
You also have products like "la fleur de sel de Guerande". It's a very famous kind of salt from the Brittany region that your foodie friends are going to love.
French Snacks
On the other hand, for any culture, even fully industrialized can feel like France. For example; you can buy French made candies from La Pie qui Chante or Carambar. Cookies like Le Petit Ecolier or famous Le Petit Beurre will be perfect gifts for your family or friends who come to visit.