Where do you first think of places to visit in Sivas? Sivas is a special place that is the hometown of almost one out of every five people due to the large population of Sivas living in big cities. So what are the places to visit when you go to Sivas by renting a car?
Sivas Travel Guide
Sivas is a very rich city in terms of places to visit. The reasons for this are the Sivas cuisine, along with its importance in history, historical buildings, and natural beauties. It is one of the largest cities in our country in terms of surface area. Sivas is also an important city in terms of history. Sivas has been the main city or province center in many civilizations. The city had a great place in the Republican period as well as in the Seljuk period and the Ottoman period.
Today Sivas contains many historical artifacts within its borders. Sivas also makes a name for itself with its Kangal Dog and fish spa, which is believed to be healing. Also, the natural beauties of Sivas are worth seeing. I would like you to see Sivas. The city truly deserves to be seen. If you are ready, I answer the question of places to visit in Sivas.
Places to Visit in Sivas
My first suggestion for places to visit in Sivas is Kent Square, which I think has one of the most beautiful squares in my country. Many historical buildings are gathered around this square. You can start the city tour by visiting the September 4 National Struggle Museum. You should visit the historical building that hosted the Sivas Congress, where the foundations of our Republic were used as the headquarters during the National Struggle. You can visit the Double Minaret Madrasa, Buruciye Madrasa, Şifaiye Madrasa, and Kale Mosque, which are gathered around a square with a pool right opposite. The madrasahs, one of the most known and historical places of the city, host many visitors today. Especially adornments on the outer door of the madrasahs admire people even today.
You can visit many masterpiece handicraft workshops within the Buruciye Madrasa. Just ahead of this place, you can visit Gök Madrasah, whose names I have come across in Erzurum, Amasya, and Tokat. You can visit Ulu Mosque, which I enjoyed greatly and was fascinated by its architecture. The mosque is 5 – 6 minutes' walk from the square. Kesik Bridge and Eğri Bridge are other places to see.
Things To Do In Sivas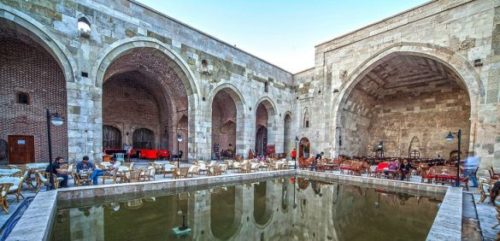 Divriği Ulucami and Darüşşifa are other places to visit in Sivas. This historical building was included in the Unesco World Heritage List in 1985. This magnificent building is 174 kilometers from the city center. If you want to walk in the valley and want to be in nature, I recommend the Şuğul Valley. Sızır Waterfall is another natural area you will see in Sivas.
Gökpınar Lake is one of the natural places that I am most impressed with in Sivas. It is 10 kilometers away from Gürün district. The lake impresses me with its cold and clean water. Get this lake to your list of places to visit in Sivas. As someone who has traveled the country several times, I have never seen such a place. Let me remind you that diving can be done here. The only problem when you go out of town in Sivas is that the districts are far from the center. So consider the distances when making your planning. You should prefer to rent a car in Sivas on Yolcu360. Sivas is one of the cities I like in the Central Anatolia region. Every time I come, the historical sites, natural beauties, and flavors leave a mark on me. Come and see our Republican city. Another important question as well as places to visit in Sivas is what to eat in Sivas?
You can check out options for car rental in Sivas.
What to Eat in Sivas?
Of course, the first thing that comes to mind is Sivas Meatballs. It has a very good taste compared to Tekirdağ meatballs, İnegöl meatballs or Akçaabat meatballs. I must say that it is among my favorite meatballs. My place suggestion is the best in the city, even the well-known Köfteci Kirli Ahmet. Although their nickname is slightly different, their meatballs are legendary. Sivas Kebab is a delicious taste that I will recommend you to try.
I should also say that Kelle Paça is very famous in the city and ends early in the day. When you come to Sivas, you can taste many tastes such as Pescutan Soup, Kelecoş, Kesme Aşı, Hingel, Madımak, İçli Köfte in restaurants that cook locally. Pastries are also widely used in Sivas cuisine. Katmer and Gözleme should be tried in the city. Also, I should say that I ate one of the most delicious bagels in my country in Sivas. I should also mention that I like the meat foods of Sivas very much and it is so delicious. We answered the question of places to visit in Sivas and what to eat in Sivas, but we did not say how to visit this big city. Let's talk a little bit about that.
How to Get to Sivas?
Sivas is a comfortable city for transportation. You can rent a car at the airport to visit Sivas. For this reason, do not leave your home without checking out the offers for car rental at Sivas Airport on Yolcu360.
You can check out options for car rental at Sivas Nuri Demirağ Airport to rent a car for one day.
Accommodation in Sivas
My suggestion for accommodation for Sivas Travel Guide is Sultan Hotel. A pleasant and clean place where I stay for 2 days. Moreover, it is only 2 minutes away from City Square. It made me very happy with its rich varieties of breakfast and I recommend it.
Places To Visit in Sivas And Recommendations
If you ask what are the recommendations for Sivas, you should add them to your visit list and come to the city. I think a two-day trip would be enough. If you want to include district visits in your program, my suggestion will be more comfortable with the vehicle. Likewise, districts in Sivas are far from each other. Don't forget to try Sivas flavors when you come to the city. Let me remind you that if you want to come in the winter, you can enjoy skiing on Yıldız Mountain.
5 things I would say do not return without doing for Sivas Travel Guide.
You should see Divrigi Ulucami.
You should eat Sivas meatballs.
You should see Gökpınar lake in Gurün.
You should visit the city square.
You should visit the National Struggle Museum.