Kaş is one of the most beautiful districts of Antalya. Kaş promises a unique travel experience to its guests not only in the summer but also in all four seasons of the year. Kaş is located between Fethiye and Demre. Kaş stands out as the holiday paradise of the Mediterranean with its blue flag beaches, historical ruins and clean air. You can also rent a car and discover the attractions of Kaş!
Places to Visit in Kaş
Patara Ancient City attracts archeology enthusiasts. Patara Ancient City is one of the historical and cultural stops that should be visited. The ancient city is located 40 kilometers from the center of Kas. Patara is the Hellenistic period capital of Lycia. This place was one of the most important port cities of the Mediterranean in the past. Patara also hosts the first assembly building in the world. You can feel as if you are traveling in time while walking among historical buildings such as the ancient lighthouse, theater and bathhouse that have survived centuries ago. Muzekart owners can enter Patara Ancient City for free. If you have a Müzekart, you can also enter Patara Beach free of charge. Patara Beach is one of the longest beaches in the Mediterranean. After visiting the ruins, you can relax in the cool waters of Kaş.
Another cultural center for those planning a trip to Kaş is Xanthos Ancient City. The ancient city is on the UNESCO World Cultural Heritage list. The history of Xanthos goes back to the 8th century BC. The region has been the administrative center of the Lycian Union for many years. Roman Theater, Acropolis, bathhouse, church and monumental tombs attract attention in Xanthos Ancient City. It is also one of the important sightseeing stops of the Lycian Way. The entrance fee to Xanthos Ancient City is 14 TL. If you have a Müzekart, you can visit this archaeological site free of charge.
Our new stop on the list of places to visit in Kaş is Kekova Island, which can be visited by daily boat tours. There is no settlement on the 4.5 square kilometer island between Kas and Demre. The island can only be visited by boat. It is possible to reach the island in 2 hours by boat from Kaş and 10 minutes from Üçağız. Swimming is forbidden in Kekova. The reason is that this place has been declared a Special Environmental Protection Area. Yachts coming to the region sail around the island and anchor at Tersane Bay. You can swim in this bay if you wish.
Click to rent a car at Antalya Airport.
Kaş Travel Guide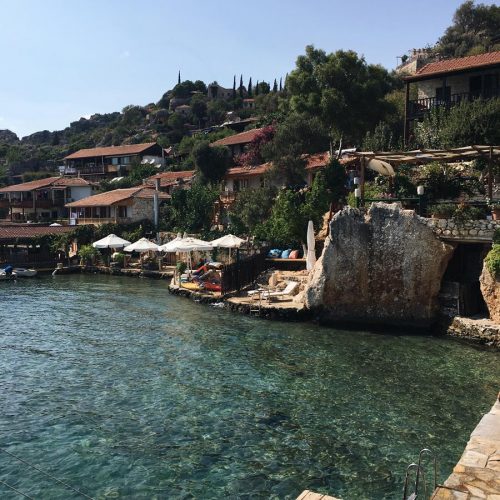 Kaleköy is the hidden paradise of Kas, a unique place where blue and green meet. Since Kaleköy is in a first degree protected area, construction is not allowed in the region. It is possible to reach Kaleköy by daily boat tours from Üçağız and Kaş. Those who want to come with a private vehicle should first come to Üçağız, which is 40 minutes away from Kaş. Then, it is possible to reach Simena Castle by following the 3-kilometer road. You use the footpath stairs to come into the village. It is not possible to enter the village by car. Since Kaleköy is a small settlement, it takes a maximum of two hours to visit this place, but after breathing in the peaceful air of this place, it is difficult to leave immediately. There are a small number of pensions for those who want to stay in the village. Moreover, when you stay in these pensions, you can reach Kaleköy from Üçağız for free with small boats.
Kalkan is a cute neighborhood in Kaş. Kalkan stands out with its blue flag beaches, historical Greek houses and calm atmosphere. Kalkan is located 25 kilometers from Kaş. This place is an ideal option for those who want to spend their summer vacation away from the crowds. It is estimated that this place was founded 200 years ago by traders from Meis. Kalkan is an old Greek fishing village. The turquoise colored Kalkan Public Beach fascinates the vacationers. Patara Beach is located 16 kilometers from Kalkan. Kalkan is also home to the world famous Kaputaş Beach. While you are in Kalkan, do not return without seeing the Blue Cave and Güvercinlik Cave.