Malls hatched in Europe and the United States from the middle of the 19th century. Located in the city center, they are the heirs of the industrial revolution and mass production. With them, new malls are born: prices become fixed, the customer is free to circulate in the aisles, and above all, the stores are transformed into places of relaxation. You can eat there, have fun or learn. Here's the list of 10 largest shopping malls in the world!
To easily visit all these malls, you can take a look at international car rental options of Yolcu360 and rent a car within minutes!
New South China Mall – China
Located in China in the prefecture city of Dongguan, the New South China Mall is a shopping center opened in 2005. The objective of the Chinese authorities was then to make it the world capital of shopping. The fruits may not have lived up to the promise of the flowers, but the New South China Mall nonetheless remains an emblematic place for the maturing of a consumer society in China. Center covers an area of 660,000 m² and it could claim a world first place for the largest useful commercial surface. There are 2,350 stores there, of which only 47 are open. This will then earn the New South China Mall the unflattering nickname of a dead shopping center. But, rest assured, the New South China Mall remains, despite this bad luck, an admirable place with its few luxury shops and attractions.
Golden Resources Mall – China
The Golden Resources Center or the Golden Resources Mall is a shopping center opened in Beijing in 2004. When the Dubai Mall opened in 2008, it became the fifth largest shopping center in the world by area. Thus, it covers an area of 560,000 m² and has more than 1,000 open shops. Very far from downtown Beijing (northern suburb of Beijing), the Golden Resources Mall is remarkable for its very poor location. Nevertheless, this hardly hinders the attendance of a more or less numerous clientele (about 50,000 visitors per day), but also tourists. To this end, in reference to the Great Wall of China, it well deserves its nickname of "The Great Mall of China."
 

SM City North EDSA – Philippines
The oldest mall on the list is located in Quezón City in the Philippines. Built in 1985 and renovated in 2006, its area is 498,000 m² and its roof supports 5,760 solar panels. 4 main buildings, 1100 stores, a hypermarket, a Food Court, a performance hall and concerts with 1200 seats, a complex of 11 cinemas, IMAX rooms, 8000 parking spaces and above all, a valet service at 3 strategic locations.
Iran Mall – Tehran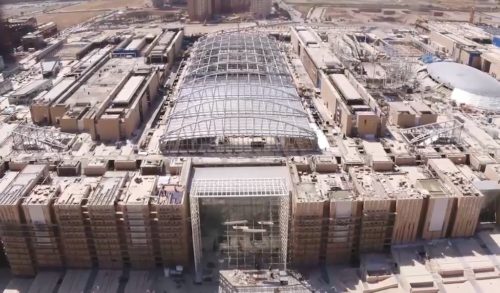 Located in Iran in the capital Tehran, Iran Mall is the largest shopping center in the world. Indeed, once it is completed, even the giant Dubai Mall could not compete with it in terms of covered space. Indeed, it currently covers an area of 1.4 million m², making it the largest mall on the planet. Eventually, it will cover 1.95 million square meters, almost the area of Monaco, a country that is 2 km². In this giant shopping center, there are nearly 700 stores, including a 20,000 square meter hypermarket, as well as bookstores. It also presents the originality of having a roof intended for sports activities such as hiking, etc. All of these assets make Iran Mall well worth its very Persian nickname of Grand Bazaar of Iran. It has been open since 2018.
The Dubai Mall – United Arab Emirates
Ranked number 1 on many platforms, the Dubai Mall is the very symbol of the new type of shopping center. It alone covers an area of 1.1 million m², half the area of Monaco and just over twice that of the Vatican State. Opened in 2008, the Dubai Mall has between 1,200 and 1,300 shops. You can find brands as prestigious as Tiffany & Co., Dolce & Gabbana, Emilio Pucci and Oscar de la Renta. It participates with the Burj Khalifa at the foot of which it is located in the influence of Dubai and by extension of the United Arab Emirates. Since its opening, this shopping center symbol of the greatness of the Emirati people has smashed many records. The most famous is that in 2014 it became the most visited tourist spot in the world with nearly 75 million visitors per year.
CentralWorld – Thailand
Located in the Thai capital, the CentralWorld in Bangkok is a rather original shopping center. Indeed, it covers an area of 830,000 m² and is conveniently the third largest shopping center in the world. It opened in 1990 and has seen many expansions. To this end, if this center is so large, it is more due to the many complexes that adjoin it than to its real total retail area. This is 550,000 m². Reserved for the middle class, Bangkok's centralWorld has been welcoming more than 150,000 visitors per day since its renovation in 2010. There are about 600 stores there, including very prestigious brands, but also two Hindu shrines dedicated to Trimurti and Ganesha.
West Edmonton Mall – Canada
The West Edmonton Mall in Alberta is an all-in-one shopping center like the other centers mentioned above. Built in 1981, it will experience many expansions that will lead it to its rank of sixth largest mall in the world. It receives fewer visitors than the largest shopping center in the United States, but their number is regularly estimated at 22 million/year. There are nearly 800 stores with brands of major international retail chains. This is the case of French Connection UK, Tommy Hilfiger, H & M or Victoria's Secret. There are also many recreational spaces in the West Edmonton Mall. With all these assets, it is quite normal that this mall welcomes a number of visitors approaching the national population of Canada. It is therefore in any case that it deserves its nickname of " the eighth wonder of the world."
The Cevahir Shopping Center – Turkey
The Cevahir Shopping Center, located in Istanbul, covers an area of 420,000 m². It is remarkable for its glass architecture visible as soon as you engage the beautiful avenue of Büyükdere in the district of Şişli. Since its opening in 2005, many prestigious brands have erected their brand there. This is the case of Adidas, Benetton, Dorothy Perkins, Kappa or Zara. With its 30 million visitors each year, the Cevahir Shopping Center leaves no one indifferent.
Berjaya Times Square – Malaysia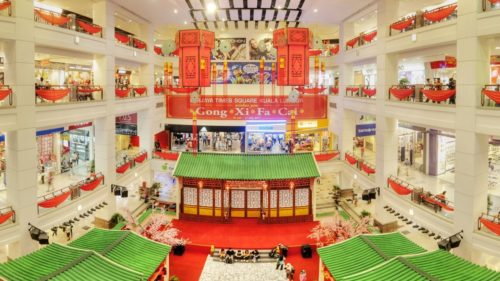 This very imposing shopping center in the Malaysian capital covers an area of 320,000 m². The Berjaya Times Square opened in 2003 is therefore not just any Mall. It is also surmounted by two giant twin towers 203 meters high. The latter offer many attractions on the fifth, sixth, seventh and eighth floors.
The GUM – Russia
GUM, or "Universal Main Store", is a shopping center located on Red Square in Moscow which offers a sales area of 70,000 m2. GUM in Moscow was built between 1890 and 1893. It is the absolute symbol of Russia and its contemporary history. This monument, dedicated to consumption, and inaugurated under Alexander III in 1893, has 200 sumptuous stores, such as Vuitton, Chanel and Dior. Nationalized in 1917, GUM served as an office and it became a store again in 1953. It then regained its former glory, thanks to its privatization in 1989. Today, it is stormed every day by new rich Muscovites, eager for Western luxury.