Europe has a long-standing reputation of being at the forefront of fashion and innovation when it comes to malls. From Spain to the United Kingdom, there are numerous examples of shopping adventures that can only be found in Europe. Even though destinations like Asia and the US may have larger malls, Europe still has some impressive establishments that feature not only stores and restaurants, but entertaining events too. Here is a list of 10 largest malls in Europe for those who want to experience some top-notch retail therapy.
Moreover, you can easily reach all these malls with Yolcu360 car rental options and enjoy your shopping!
Westgate Mall, United Kingdom
Westgate Mall in the United Kingdom is a shopping center that provides a wide variety of stores and amenities. The mall has over 350 different shops and restaurants, including high-end brands, technology stores, beauty salons and cafes. In addition to the shopping experience, Westgate Mall also offers an entertainment area with a cinema, bowling alley and family friendly activities such as mini golf. Located in the city of Oxford, Westgate Mall is conveniently located close to many attractions such as ancient buildings, universities and parks. With plenty of parking nearby, visitors can easily access all parts of the mall. Westgate Mall has been providing shoppers with an enjoyable experience for over 30 years, making it one of the most popular places to visit in the region.
Mediterranean Cosmos Mall, Greece
Mediterranean Cosmos in Greece is a bustling mall located on the outskirts of the vibrant city of Thessaloniki. With over 200 different shops, cafes and restaurants, visitors to the mall can find something to suit every taste. The center is filled with luxury brands such as Bulgari, Gucci and Louis Vuitton, as well as more affordable high-street names. In addition to the retail experience, Mediterranean Cosmos also offers an extensive entertainment area with a cinema complex, bowling lanes and plenty of activities for children. Located close to several beaches and activity parks in the area, visitors can make the most out of their time by combining leisure activities with shopping trips. Whether you're looking for designer items or a bargain buy, Mediterranean Cosmos has it all!
 

Puerto Venecia Mall, Spain
Puerto Venecia is a shopping complex located in Zaragoza, Spain. It is the largest shopping and leisure center in Spain, covering an area of over 200 hectares. The vast area contains over 300 shops offering a variety of international and local brands as well as a wide range of services. There are also several restaurants and cafes, plus a big indoor amusement park for children. The Grand Canal, which runs through the heart of the complex, provides a pleasant atmosphere to relax and walk around. Puerto Venecia has become one of the most visited places in Zaragoza due to its unique combination of entertainment opportunities combined with its proximity to other attractions such as the bull-ring and old town area. With plenty to do and see, it's no surprise this bustling mall has become such a popular destination.
Arena Centar Mall, Croatia
Arena Centar is one of the largest shopping and entertainment malls in Croatia. Located in the city of Split, it comprises almost 200 shops and services across 150,000 square meters, including a multiplex cinema with 12 screens, an Intermezzo bowling center, food court, and numerous cafes and restaurants. It also features a wide selection of international brands from fashion to electronics to home furnishings. In addition to its outstanding retail offering, Arena Centar offers visitors an array of recreational activities for all ages. There are interactive playgrounds for kids and mini-golf courses as well as sports bars that stay open late into the night. With so much on offer under one roof, Arena Centar is a destination that appeals to both locals and tourists alike.
Bielany Retail Park, Poland
Bielany Retail Park is situated in the city of Warsaw, Poland. It is one of the largest retail parks in the country and offers a wide range of shops and services for visitors. The park contains over 80 stores, ranging from fashion outlets to electronics and pet stores. Visitors can find almost any product they are looking for here. This park also includes an entertainment area with a bowling alley, movie theater, playgrounds and other leisure facilities.
The parking lot at Bielany Retail Park is large enough to accommodate both cars and buses and provides free access to customers who wish to arrive by car. The stores are well-lit, easy to navigate, and offer comfortable shopping experiences to those who visit. Many people take advantage of the discounts offered at the park, as well as its convenient location close to public transportation links like buses and trains.
Cevahir Mall, Turkey
Cevahir Mall is located in the Şişli district of Istanbul, Turkey. It is considered the largest shopping mall in Europe and among the largest malls in the world, with over 370 thousand square meters of retail space. This mall provides a wide selection of shops and services that range from clothing stores to electronic goods and jewelry boutiques.
The mall offers easy access to visitors by car or public transport. The mall itself features parking lots for up to 3 thousand cars at a time. Inside the building, customers will find escalators and elevators which make navigating the five floors of shops easy and safe. Cevahir Mall is a must-see destination for those who love shopping but also for those looking for an entertaining day out.
Paradise Mall, Bulgaria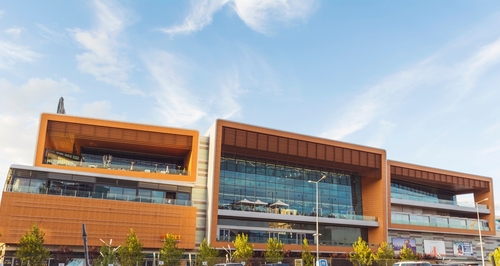 Paradise Center is one of the largest shopping centers in Bulgaria. Located in Sofia, it has become a renowned destination for those looking to shop and enjoy themselves in the city. With over 150 shops, Paradise Center has something to suit every taste and budget. The center also features numerous restaurants, cafes, and bars so visitors can sample a variety of local and international cuisine. Additionally, there are several entertainment venues including an IMAX cinema, an arcade, bowling alley and other activities. Paradise Center is a great place for anyone looking for convenience and fun.
Trafford Mall, United Kingdom
The Trafford Shopping Mall in Unıted Kingdom is one of the most vibrant shopping spaces in the country. Situated close to Manchester, the center features a grand total of 350 stores ranging from designer brands, to high street favorites. Alongside this, there are more than 60 places to eat and drink, including many local and international eateries. With its wealth of shops, restaurants and fun activities, the Trafford Mall offers many things to do.
Trafford also has a number of events that take place throughout the year. These include live entertainment, exhibitions and interactive experiences to keep shoppers entertained while they shop. There is also an extensive range of services available at the mall; these include banking facilities and beauty salons providing customers with all they need under one roof. With recent expansions underway, customers can look forward to even more options when visiting The Trafford Centre in the near future!
Shopping City Sud, Austria
Shopping City Sud in Austria is the largest shopping center in the country, with over 180 shops and restaurants in total. Located on the outskirts of Vienna, it is easily accessible from all parts of the city by public transport or car. The mall offers a wide range of products, from everyday items to luxury brands. Visitors can find just about anything they need here- from clothing and books, to electronics and furniture. There are also play areas for children. Shopping City Sud is truly a one-stop destination for shoppers looking for comfort and great value.
Westend City Mall, Hungary
Westend City Mall is one of the largest malls in Hungary. Located in Budapest, it has more than 200 stores and restaurants, offering a wide variety of products and services to its customers. There are multiple floors for different shops, including designer fashion boutiques, electronics stores, health & beauty shops, and popular entertainment venues. Westend City also includes several dining options that range from takeaway eateries to fine-dining experiences. With its convenient location and extensive selection of shops and eateries, Westend City Center is an ideal spot to spend a day out shopping or enjoying a meal with friends.