Ahh, the perfect honeymoon in Europe… Something that you and your partner will remember forever! You want it to be romantic, luxurious and full of unforgettable experiences. Look no further than honeymoon destinations in Europe; this continent is packed with romantic getaways so deciding where to spend those precious weeks together can be a daunting task. So don't worry, we have curated fifteen incredible destinations into this list just for you! Let's take a look at some of the best honeymoon destinations in Europe worth considering.
While reading, do not forget to take a look at Yolcu360 car rental options for the best price, worldwide.
Copenhagen, Denmark
Copenhagen, the dreamlike city of Denmark, engulfed with the beauty of the sea and colorful houses leading to misty green parks, is the ideal destination for tourists to experience a European city. This cultural and historic hub has embraced modernisation while still retaining its historic essence that makes it a perfect spot for explorers. With the atmosphere and architecture of the city, it is impossible not to fall in love with Copenhagen. A stroll along the Nyhavn canal or a visit to the famous Little Mermaid statue, Copenhagen offers a mesmerizing feeling that will leave you enchanted. This city is known for its luxury restaurants, innovative food and design, and efficient cycling infrastructure. If you're looking for an alluring destination that has it all, then Copenhagen should be on your bucket list.
Krakow, Poland
If you are an avid traveler, Krakow should definitely be on your list of must-visit destinations. Situated in southern Poland, this attractive city is an architectural delight, having been preserved meticulously over the centuries. The historic Old Town is a UNESCO World Heritage Site and boasts stunning examples of Gothic, Renaissance, and Baroque buildings to explore. A visit to the Wawel Castle and Cathedral, perched atop a hill overlooking the city, is a must. Krakow is also known for its thriving cultural scene, including the famous Jewish quarter of Kazimierz, now a vibrant hub of art, music, and food, and the picturesque Planty Park, located in the heart of the city. It's easy to see why Krakow is quickly becoming a popular destination for travelers looking for a unique blend of history, beauty, and culture.
Reykjavik, Iceland
Nestled amidst a stunning array of geysers, hot springs, glaciers and scenic vistas, Reykjavik is a laid-back capital city with much to offer visitors. Iceland's unique natural beauty and interesting culture attracts visitors from all over the world and Reykjavik is the perfect base from which to explore this incredible destination. Take a stroll through the city's eclectic neighborhoods and discover the vibrant street art scene, quirky boutiques and fantastic restaurants serving up traditional Icelandic cuisine. Those seeking adventure can venture out of the city to hike through volcanic terrain or soak in natural hot springs. Whether you're a nature enthusiast, culture lover or simply looking for a relaxing getaway, Reykjavik offers a truly unforgettable experience.
Brussels, Belgium
Brussels, the capital city of Belgium, is a cosmopolitan and lively destination that attracts countless visitors each year. This multicultural city boasts a range of fascinating attractions, from the symbolic Atomium structure to the world-renowned Royal Museums of Fine Arts. As the headquarters of the European Union and NATO, Brussels is also a hub of international politics and diplomacy. With its stunning architecture, picturesque parks, and diverse culinary scene, there is no shortage of things to see and do in Brussels. If you are interested in history, art, food, or fashion, this charming city is sure to capture your heart and leave you wanting more.
Lisbon, Portugal
Lisbon, Portugal's charming capital, is a city that promises to captivate any traveler who steps foot on its cobblestone streets. Lisbon will be on our best honeymoon destinations in Europe list for sure! From the scenic alleyways of Alfama to the lively waterfront of Belém, Lisbon boasts an abundance of history, culture, and art. Its hilltop viewpoints offer panoramic vistas of the city's enchanting skyline, while its world-class museums and galleries showcase an impressive collection of Portuguese art and artifacts. In addition to its rich cultural offerings, Lisbon is also celebrated for its delectable cuisine, which effortlessly fuses traditional and contemporary flavors. Whether you're seeking a lively night out, a relaxing beach day, or simply a stroll through the city's beautiful parks, Lisbon promises to deliver them all.
Dubrovnik, Croatia
Crowning the Adriatic Sea's azure waters, Dubrovnik, Croatia is a city that seamlessly blends the allure of the past with the vibrancy of the present. With its roots reaching back to the 7th century, Dubrovnik weaves an intoxicating narrative of history, culture, and natural beauty that captivates the heart of every traveler. Famed as the "Pearl of the Adriatic," the city's Old Town is a treasure trove of architectural marvels, boasting meticulously preserved medieval walls that embrace the city in their historic embrace. Wander along the Stradun, the bustling artery of the Old Town, and immerse yourself in the city's pulse as you discover charming alleyways and secret squares that spill over with stories of bygone eras. For an entirely different perspective, ascend the heights of Mount Srđ in a cable car and drink in the panoramic vistas of Dubrovnik's terracotta rooftops and the mesmerizing archipelago that punctuates the surrounding sea.
Dubrovnik is not simply a city; it's a living canvas that vividly portrays the amalgamation of natural grandeur, rich culture, and contemporary conveniences. The city's allure extends beyond its robust stone walls and ancient cobblestone streets, into the serene lap of nature where the verdant countryside meets the cerulean sea. Here, the interplay of history and nature is apparent in every corner, from the centuries-old fortresses that stand as silent sentinels overlooking the sea, to the verdant Lokrum Island that lies a stone's throw from the city, offering a haven of tranquility. It comes as no surprise that Dubrovnik ranks among Europe's top destinations, for it is a place where every moment holds the promise of a new discovery, a new story, a new perspective. No matter if you're a history enthusiast, a nature lover, or a seeker of amazing experiences, Dubrovnik is a city that promises to leave an indelible imprint on your travel memories.
Nice, France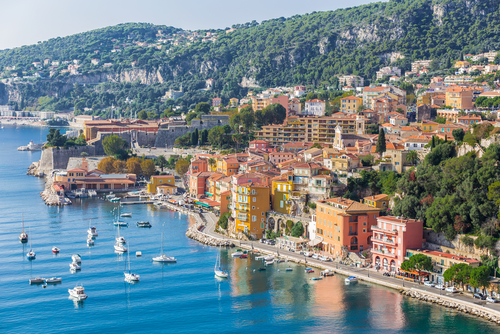 With its charming cobblestone streets, pleasing landscapes, and crystal-clear waters, it's no wonder why Nice, France attracts millions of tourists every year. Situated on the stunning French Riviera, this coastal city boasts an unparalleled mix of history, culture, and natural beauty. Visitors can immerse themselves in local traditions by visiting the Cours Saleya, a famous market full of flowers and mouth-watering food. For those seeking adventure, Nice provides plenty of outdoor activities from paddleboarding to hiking. And when the day is done, nothing beats watching the sunset over the Mediterranean Sea while sipping on a glass of local wine. Nice truly has something for every kind of traveler. Never miss this beautiful city on the best honeymoon destinations in Europe list.
Istanbul, Turkey
When it comes to cultural and historical richness, Istanbul, Turkey is a city that truly stands out. Dubbed as "the cradle of civilizations", Istanbul is a place where east meets west. It's an energetic city that perfectly blends ancient traditions with modernity, resulting in a unique tapestry of sights, sounds, and flavors that's hard to find elsewhere. With its stunning skyline that's dominated by the iconic domes and minarets of the Blue Mosque, Hagia Sophia, and the Topkapi Palace, Istanbul never fails to impress visitors from all over the world. From walking on the cobbled streets of the Grand Bazaar, sipping on some Turkish coffee, to taking a cruise down the Bosphorus River, Istanbul is a city that is guaranteed to leave you spellbound.
Bruges, Belgium
Tucked away in the northwestern corner of Belgium, the captivating city of Bruges emanates an irresistible charm. Renowned for its intricate network of meandering canals, rustic cobbled lanes, and remarkable medieval architecture, Bruges rightfully earns its moniker as the "Venice of the North". Its rich tapestry of history unfurls back to the 12th century, a time when it served as a crucial hub for wool and textile trading. In the present day, Bruges has transformed into a popular tourist magnet, drawing in globetrotters from every corner of the earth. Whether it's the simple joy of ambling along the idyllic canals flanked by quaint houses and picturesque bridges, savoring the distinct flavor of world-class Belgian beer, or drinking in the panoramic cityscape from the summit of the iconic Belfry Tower, Bruges promises a unique experience for every visitor.
Immersing oneself in Bruges is akin to stepping into a living painting, a cityscape where every corner is a testament to timeless beauty and historical richness. The city, with its fairy-tale ambiance, is a paradise for history buffs, food enthusiasts, and those seeking solace in serene, picturesque settings alike. Each cobblestone underfoot narrates a tale from the past, while the city's majestic edifices stand as silent witnesses to centuries of change. The city's character is also wonderfully reflected in its gastronomy, from the sublime Belgian chocolates to the hearty Flemish stews, creating a culinary journey as enchanting as the city itself. As the day ends, the city bathed in the soft, golden glow of the setting sun, presents a sight to behold, the reflections dancing on the canals adding to the magic of Bruges. This beautiful Belgian city is more than a destination; it's a journey into the enchanting pages of a storybook, waiting to be explored and cherished.
Heidelberg, Germany
Heidelberg, Germany is a city with a rich history and stunning views. Situated along the Neckar River, this university town is home to one of the oldest and most esteemed universities in Germany. The city is also famous for its well-preserved Baroque architecture, including the impressive Heidelberg Castle, which sits atop a hill overlooking the city. So because of the cool architecture, Heildelberg is one of the best honeymoon destinations in Europe. Cafes and pubs line the streets, offering a cozy atmosphere and unique local cuisine. For a romantic outing, take a stroll through the beautiful Philosopher's Way, or explore the winding streets of the Old Town. Overall, Heidelberg is a must-visit destination for anyone seeking old-world charm and a warm welcome from friendly locals.
Hallstatt, Austria
Nestled in the heart of Austria's Salzkammergut region lies the charming village of Hallstatt. With its romantic setting on the shores of Lake Hallstatt, this tiny village has captivated visitors for centuries. Its rich history is evident in the well-preserved salt mines that have been worked since ancient times and the unique "bone house" where the skulls and bones of the village's deceased residents are stored. Hallstatt's quaint streets, adorned with flower boxes in the summer and covered in a blanket of snow in the winter, offer a peaceful retreat for those looking to escape the hustle and bustle of city life. Whether you're interested in exploring the village's unique cultural heritage, taking in the breathtaking mountain views, or simply savoring a cup of coffee on a quiet morning, Hallstatt is a destination that promises to enchant and delight.
Bath, England
Enveloped within the gentle undulations of Somerset's verdant hills, Bath, England, presents an enchanting tableau of history and culture. This romantic city, with its rich Roman heritage stretching back over two millennia, exudes an aura of timeless elegance. As you amble along the city's quaint cobbled lanes, you are greeted by the arresting sight of resplendent Georgian architecture, their honey-hued Bath stone facades radiating warmth and grandeur. The city invites you to indulge in the delightful flavors of traditional British cuisine served in its charming cafes and pubs, each corner telling a tale of its own. As night descends, the cityscape bathed in soft, golden light creates an ethereal atmosphere, further amplifying its quintessential charm. A serene stroll along the meandering Avon River, which threads its way through the heart of the city, is an essential experience, offering a tranquil retreat from the city's historical richness.
Bath is a sanctuary for those yearning for a respite from the relentless pace of urban life, offering a gateway to the idyllic beauty of the English countryside. The city is much more than just its celebrated Roman Baths; it's a harmonious blend of antiquity and tranquility, with its cultural tapestry woven with threads of history, arts, and gastronomy. From the grandeur of the Royal Crescent to the rustic charm of the artisanal markets, Bath is a place where the old world coexists with the new in the most delightful of settings. A journey here is not just an exploration of an iconic English city, but a step back into a time of elegance and refinement, making Bath an irresistible destination for travelers seeking a blend of historical grandeur and bucolic serenity.
Lofoten Islands, Norway
If you're looking for spectacular scenery and breathtaking natural beauty, the Lofoten Islands in Norway should be at the top of your list. These islands are truly distinctive, with stunning mountain peaks rising up to meet crystal-clear waters. Visiting Lofoten feels like stepping into a picture postcard, with bright and colorful fishing villages nestled along the coastline. And if you're a lover of the great outdoors, you won't be disappointed,this rugged landscape is perfect for hiking, kayaking, and even surfing. If you're looking for a peaceful escape from the hustle and bustle of everyday life or an adventure-packed holiday, the Lofoten Islands are not to be missed.
Lapland, Finland
Lapland, the northernmost region of Finland, is truly a winter wonderland. One of the best honeymoon destinations in Europe. Here, you'll find pristine snow-covered forests, frozen lakes, and the famous Northern Lights illuminating the night sky. Visitors can experience a range of activities, from husky sledding, snowmobiling, and reindeer safaris to ice-fishing and skiing. For those seeking a more relaxing experience, Lapland offers the comfort of traditional Finnish saunas and hot tubs. And, of course, a trip to Lapland wouldn't be complete without meeting Santa Claus himself at Santa Claus Village in Rovaniemi. Lapland is a magical destination that promises to leave visitors with lasting memories and a sense of wonder.
Transylvania, Romania
Set in the heart of Romania, the mystifying region of Transylvania is a fascinating tapestry of rich history and folklore that has stirred the human imagination for centuries. Cradled within the majestic Carpathian Mountains, its landscape presents a breathtaking spectacle steeped in an uncanny charm, characterized by vast, dense forests and hauntingly beautiful gothic castings that have become synonymous with the region. Transylvania's global fame is largely due to its association with Bram Stoker's Dracula, a character profoundly inspired by the infamously brutal ruler Vlad the Impaler, who is believed to have once held court in this territory. Yet, the allure of Transylvania extends far beyond its vampire lore, revealing a realm of profound cultural significance where time-honored traditions are meticulously preserved and fervently celebrated through sparkling music, expressive dance, and compelling art forms.
Beyond the shadows of its mythical tales, Transylvania beckons the intrepid traveler with its myriad hidden treasures. If you are looking for uncommon honeymoon destinations in Europe, we got you! The medieval city of Sighisoara, with its cobblestone streets and colorful houses, offers an immersive dive into the past, while the vividly painted monasteries of Bucovina, standing as lively testimonials to faith and artistic prowess, enchant visitors with their sublime beauty. Unfolding a journey through Transylvania is akin to turning the pages of a living storybook, filled with mesmerizing scenes and riveting narratives. This captivating region is not just a destination for those drawn to the macabre, but a genuine paradise for those who dare to explore beyond the conventional, for it generously rewards those who tread the path less traveled and embrace the thrill of discovery.