The European cruise industry is one of the most extensive and diverse in the world. With so many great options to choose from, it can be hard to narrow down your choices. Here are the 15 best cruise lines in Europe that offer everything from luxurious accommodations to ambitious voyages, all with excellent service and a wealth of onboard experiences. From classic ships to modern vessels, each one will take you on a journey of discovery and relaxation along the Mediterranean Coast and beyond.
You can easily reach any part of the world with Yolcu360 car rental options.
Costa Cruises
Costa Cruises is the Italian line of cruise ships operated by Carnival Corporation. They offer an incredible variety of cruises ranging from short voyages to full-service vacations, with itineraries to suit every traveler's needs. Costa Cruises has a fleet of 20 modern ships carrying up to 5,700 passengers on their unique Mediterranean experiences. Every ship has something special to offer, from spacious staterooms and innovative dining venues to luxury spa treatments and thrilling sports activities. With sun-drenched beaches, remarkable cities, world-class shopping and vibrant nightlife at every port of call, a Costa Cruise is sure to be an unforgettable experience.
Costa Cruises also prides itself on providing excellent customer service throughout the voyage which ensures that all guests have a wonderful time onboard. Onboard entertainment includes star studded performances, high energy programs and lively international parties in stylish lounges and clubs, guaranteeing everyone's enjoyment regardless of age or lifestyle. The friendly Italian hospitality extends beyond the crew as each destination offers its own brand of culture, cuisine and adventure that makes it exceptional and unlike any other holiday destination on earth.
Viking Venus
Rise to the challenge of exploration on Viking Venus, the luxurious ship that launched in May 2021 from Portsmouth, England. Featuring modern amenities and a contemporary design, this state-of-the-art vessel accommodates 930 passengers and 465 crew members.
You'll find plenty of options for relaxation and entertainment onboard, including multiple pools and shops, a cinema, a live performance theater, a jazz lounge, a spa, a fitness center and a salon. Plus, you can attend lectures and discussions with an onboard historian, a great opportunity to learn about the culture of each destination. And hone your own culinary expertise at The Kitchen Table cooking school!
Discover new flavors throughout the ship's eight dining venues—including The Restaurant with daily updated meals; World Café with diverse cuisine; Chef's Table with expertly paired tasting menus; Manfredi's Italian Restaurant for classic Italian dishes; and more. There are also plenty of opportunities for private dining experiences with 24/7 room service.
Accommodations come in six type varieties—all offering private verandas. Veranda Staterooms measure 270 square feet and feature plush beds, free Wi-Fi access and flat-screen TVs. Meanwhile, higher tiers come with perks like priority shore excursion reservations, priority spa reservations,in-room coffee and free laundry services—all in rooms spanning up to 1,448 square feet in size! Prepare for deluxe exploration on Viking Venus
Seven Seas Cruises
Embark on a luxurious voyage with the 732-passenger, 567-crew member Seven Seas Splendor, the newest ship in the Regent fleet. Every suite onboard is equipped with its own private balcony, and outfitted with interactive flat-screen TVs, luxurious bath products, bathrobes and slippers, a signature queen-size bed and dining tables for two. There are 10 suite categories to choose from, ranging from the Veranda (307 square feet) to the palatial Master Suite (1,895 to 2,108 square feet).
Treat yourself to relaxation and recreation on board – take advantage of the spa services, play some paddle tennis or bocce ball on deck or get your blood pumping with a jog around the jogging track. Take a dip in one of two whirlpools or infinity-edge pools that stretch along the edge of the ship for amazing views of the ocean. And when night falls, be sure to catch one of four shows at the onboard theater!
Fuel up for another day of exploration by indulging in lunch at Pool Grill buffet or breakfast alfresco at La Veranda. You'll also find plenty of other options for formal meals, from French cuisine at Chartreuse to Pan-Asian dishes at Pacific Rim and Compass Rose. Seven Seas Splendor visits ports across Europe and Mediterranean destinations; Caribbean islands; Bermuda; and South America, giving you an incredible opportunity to explore multiple places while enjoying ultimate luxury aboard this majestic vessel.
Odyssey of the Seas
Odyssey of the Seas, the first Quantum Ultra Class vessel to sail in the United States, welcomes guests with an array of standout amenities. From RipCord by iFLY, the only skydiving simulator available at sea, and the FlowRider surf simulator to the North Star observation capsule that takes guests 300 feet above sea level, Odyssey of the Seas has it all.
For those looking for relaxation and comfort, there are pools, a spa, fitness center with classes, kids clubs and shopping venues. Foodies will love having access to 15 dining options, from Japanese fare to all-you-can-eat buffets to Starbucks. For drinks, cruisers can visit nine bars and lounges on board. Entertainment options include theatrical performances, live music events at various venues, a casino and outdoor movie nights. Accommodations include Interior, Ocean View, Balcony staterooms as well as luxurious suites and Virtual Balcony rooms with floor-to-ceiling displays projecting real-time views from outside of the ship. Launched in July 2021 with capacity for 5498 passengers and 1550 crew members onboard, Odyssey of the Seas is ready to take you on a journey like never before.
MSC Cruises
MSC Cruises is one of the world's largest privately owned cruise companies, operating a growing fleet of 17 ultra-modern ships. With sailings to more than 250 ports and itineraries ranging from three to seven nights in length, MSC Cruises provides guests with an array of destinations and experiences to choose from. From classic Mediterranean ports like Barcelona, Venice and Rome to remote gems such as Norway's Arctic Circle or Africa's west coast, there is something for everyone.
MSC Cruises' unique onboard experiences include world-class cuisine served in elegant venues across the fleet. Guests can choose from specialty restaurants that offer gastronomic specialties from around the world, including Italian favorites like wood-fired pizzas and freshly made pasta dishes. With state-of-the-art entertainment options such as live music performances and energetic activities like cooking classes, family attractions and more, guests will never be short of things to do on board an MSC Cruise. From luxurious staterooms and spas to lavish pools and cabanas, every aspect of a guest's experience is taken care of, guaranteeing a holiday that lives up to all expectations.
Norwegian Cruise Line
Norwegian Cruise Line offers a wide range of exciting and unique experiences for travelers looking to make the most out of their cruise vacation. From private island stopovers to thrilling entertainment, Norwegian Cruise Line has great opportunities. Their innovative fleet of ships offer a variety of luxurious amenities such as private pools and Balinese-style spas, while their signature Freestyle Cruising affords guests true freedom and flexibility aboard the ship.
Norwegian Cruise Line also specializes in taking passengers to some of the world's most intriguing destinations such as Alaska, the Caribbean and Europe with their diverse fleet. Whether it's exploring ancient ruins in Rome or taking a dip in an exotic beach on St Thomas, Norwegian Cruise Line will get you there in style and comfort. All aboard can indulge in various onboard activities that are specially designed to provide the best experience no matter what your tastes may be.
Royal Caribbean
Royal Caribbean is an award-winning cruise line that caters to travelers of all ages and interests. With over 25 state-of-the-art ships, the fleet offers a range of innovative experiences such as their signature FlowRider surf machine, rock climbing walls, sports courts and expansive outdoor sun decks. Royal Caribbean guests can explore exotic destinations around the world with cruises to Europe and more.
When not enjoying the sun or onboard activities, guests can experience some of the best dining at sea. From excellent sushi bars to classic steakhouse fare, there are plenty of culinary options available on every Royal Caribbean cruise ship. In addition to delicious food, passengers can enjoy a wide variety of entertainment from thrilling aqua shows featuring world-class divers and acrobats to Broadway musicals performed by Hollywood actors in opulent theaters. With spectacular amenities and experiences to choose from, Royal Caribbean cruises are perfect for those looking for truly memorable holiday experiences.
Holland America Line
Holland America Line is a cruise line offering some of the best vacations at sea. With 14 ships alongside, travelers can explore a wide range of destinations around the world such as Alaska and Europe in modern, comfortable vessels with first-class amenities. For those looking to get away from it all on their vacation, Holland America Line is perfect as it offers unique itineraries tailor-made for relaxation and exploration.
Holland America Line's guests are promised five-star experiences with many indulgent onboard options such as pampering spa treatments, private dining rooms, elegant lounges and luxurious staterooms with private balconies. Whilst onboard guests can enjoy complimentary culinary experiences from formal dinners to classic poolside BBQs paired with delicious wines and spirits.
Princess Cruises
Princess Cruises is a renowned cruise line offering exceptional vacations at sea to multiple destinations around the world. With 17 ships in the fleet, travelers have their pick of itineraries from Europe to Japan. Guests on Princess Cruises are promised a luxurious experience with spacious staterooms and suites complete with private balconies, world-class cuisine and endless activities and entertainment such as pool games, shows and live music.
There is MedallionClass which provides every passenger with an onboard experience. From interactive games to personalized itineraries, guests are provided with an exclusive level of service that truly sets Princess Cruises apart from other cruise lines. For those wanting to explore further ashore, Princess Cruises offers shore excursions through an array of specialty tours allowing passengers to make the most of their vacation. Whether it's a classic getaway or an unforgettable adventure across the globe, Princess Cruises offers amazing experiences at sea.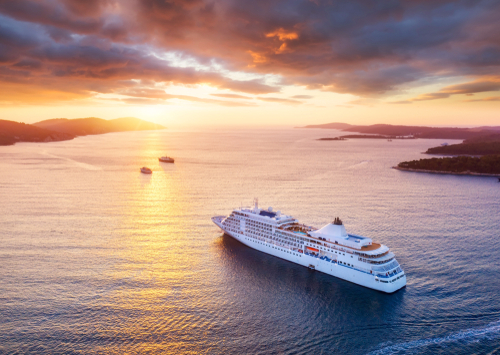 Celebrity Cruises
Celebrity Cruises is a sophisticated cruise line with some of the highest standards of luxury at sea. Covering popular destinations from the Caribbean to Europe and Asia, guests can explore some of the world's most beautiful locations with 13 ships in their fleet. From modern designed vessels boasting amenities such as top-deck pools, private balconies and spas to award-winning restaurants featuring delicious cuisines for every meal, Celebrity Cruises offers travelers luxurious experiences like no other.
Passengers can enjoy some of the most unique suites on board with private butlers ready to cater to their needs 24/7. Not to mention tranquil retreats or spa treatments ready to help you relax and unwind during your voyage. Those after adventure can explore ashore through an array of shore excursions chosen specifically for each itinerary or enjoy activities onboard like movies under the stars and cooking classes that are perfect for creating lasting memories with family and friends. Celebrity Cruises is sure to impress!
Oceania Cruises
Oceania Cruises is a leading cruise line with luxurious voyages to some of the world's most stunning destinations. From South America to Europe and Alaska, travelers can experience Oceania's signature destination cruising style with intimate ships boasting of some of the best entertainment and amenities at sea. With 11 ships in their fleet each designed with comfort in mind, guests can enjoy an extraordinary onboard experience from wonderfully appointed staterooms to gourmet cuisine inspired by Master Chef Jacques Pepin. Onboard activities range from live music performances, wine tasting classes and enrichment lectures to swimming pools, lounges and movies under the stars
Regent Seven Seas Cruises
Regent Seven Seas Cruises provides an ultra-luxurious cruise experience with four ships in their fleet designed to cater to even the most sophisticated traveler. From exotic locations such as Africa, the Middle East and Asia to Europe, guests can escape on a luxury voyage filled with extraordinary experiences.
Onboard amenities range from superior staterooms complete with 24 hour room service, complimentary mini-bar and butler service to exquisite dining venues featuring menus crafted by talented chefs paired perfectly with fine wines at no extra charge. Those after entertainment can enjoy everything from live performances by world-class musicians to swimming pools, relaxing spas and intimate lounges perfect for sipping a cocktail or two. Guests wishing to explore more of the world can take advantage of unlimited shore excursions chosen specifically for each itinerary or simply relax on board in some of Regent's unique facilities such as yoga rooms and jogging tracks.
Disney Dream
Ready for an unforgettable adventure? Look no further than Disney Dream, a 4,000-passenger cruise ship with sailings to the Bahamas, Western Caribbean and Europe. Last renovated in 2015, this impressive vessel features endless amenities, such as the 765-foot AquaDuck water coaster, a virtual sports simulator (for an extra fee) and theatrical performances that bring Disney movies to life.
Parents can enjoy an adults-only Quiet Cove pool and Senses spa & salon while kids explore five specialized clubs full of activities. After dark, The District transforms into an oasis with various bars and lounges exclusive for grown ups. As far as dining goes, there's nine themed venues to choose from plus two specialty restaurants available only to adults. Staterooms and suites are designed with families in mind – offering sofa beds and ocean views or verandas; Concierge Suites boast up to 1,781 square feet of living space! Though some recent cruisers commented that the ship is more expensive than other mainstream competitors – most said it was worth every penny due to the excellent staff service.
Seabourn Ovation
Step aboard the luxurious Seabourn Ovation and experience a journey like no other. This 600-passenger ship, which debuted in 2018, features an intimate crew-to-passenger ratio of nearly 1-to-1 and all-suite accommodations with verandas overlooking the ocean. All suites come with complimentary in-suite bars and flat-screen TVs while Pure Pampering baths are available for those wanting an extra indulgent stay.
For activities, there's complimentary fitness classes plus spa and salon treatments; to relax you can visit the private cabana deck or take a dip in the whirlpool. At night, choose from options like unwinding at the alfresco Sky Bar, playing at the casino or enjoying outdoor movies or dancing under the stars. Fine dining experiences are also available – The Grill by Thomas Keller serves steakhouse classics created by its namesake Michelin-starred chef. Alternatively, try one of four other casual and fine dining venues on board – from Sushi to Colonnade buffet style restaurant. Though some recent cruisers had difficulty booking shore excursions at the designated counter – most guests were pleased with their overall quality of service onboard.
Nieuw Statendam
In December 2018, Holland America Line introduced Nieuw Statendam, one of their latest cruise ships and the second vessel in the contemporary Pinnacle Class collection, following the elegant and visually striking design of its sister ship, Koningsdam. The ship can accommodate up to 2,666 passengers and offers an array of facilities and activities for guests to enjoy throughout the day and night.
Passengers can indulge in relaxation and wellness treatments at the spa and pools, or partake in physical activities at the fitness center or sports court. For those seeking enrichment, there are cooking demonstrations and wine-blending classes available. In the evenings, guests can enjoy entertainment options, such as chamber music at the Lincoln Center Stage, blues music at B.B. King's Blues Club, rock music at Rolling Stone Rock Room, or theatrical performances at the World Stage.
Dining options on board are diverse, with a traditional dining room, casual eateries, and specialty restaurants featuring cuisine from Holland, Asia, and France. Accommodation options range from Inside and Ocean View staterooms to Verandah staterooms and spacious suites with balconies and living areas.
Holland America Line's exclusive Club Orange program offers members several benefits, such as complimentary stateroom upgrades, skip-the-line priority access, and a dedicated concierge hotline. On board Nieuw Statendam, members of Club Orange also enjoy a premium in-room breakfast menu and access to a private dining venue with an expanded menu. Nieuw Statendam departs from various ports, including Fort Lauderdale and Boston in the United States, as well as European ports such as Rome and Barcelona.