Sunrise, sunset and a lot of "Dolce Far Niente," which in Italian translates to "the sweetness of doing nothing." A phrase which Italians live by and Turks emulate. So where can you go to do "nothing" and enjoy the beauty and thrills of southern Turkey without the foot traffic and chaos? We've got your answer.  Hop on a plane and head south to Side known anciently as the port city of Pampylia. It is situated along a 1km long  peninsula sitting a comfortably equal distance between Antalya and Alanya. With over 140 luxury accommodations, Side is one of the only cities in the South of Turkiye densely populated with high end inclusive resorts. Honeymooners head to Mugla but families head to Side.

Click here to read Antalya travel guide.
Where To Go In Side, Antalya
Çolaklı, Evrenseki,  Kumköy Beach
West Beach is closer to the old town and carries a calmer tide with a shallow depth making it more kid and café friendly.  The warmer water and bigger beach is located on the eastern side.  The tide is rougher and the eastern side of the beach is more ideal for water sports.
Fancy a walk after lunch? Explore the ancient town of side located in the city center dating back to the Roman and Byzantine times. Start with the Ancient Theater and walk beside it to explore Side's old cultural center, Commercial Agora with Temple of Tyke and the old market street. Walk a little southeast and find yourself at State Agora the elite social and political center for the ancient romans. Walk down the marble paved Colonnaded Road lined with mosaic columns and let it lead you towards the many monumental gates, the Vespasian Fountain,  Temple of Men ( god of the moon) and the temple of Dionysus (god of wine).
THEMEPARKS
With your car rental from Yolcu360 in tow, you can plan a day trip to The Land of Legends Theme Park, 45 minutes outside the City Center for some shopping, Dolphin & Fountain shows and thrills. Find yourself surfing on fixed waves at Aqua Land, strapping into your seat on the Sky Fight Coaster, catching a 5D screening in Adventure land or slipping down one of the 8 slides at Secret Lagoon. Your options are limitless. All day tickets for adults are over €73, children €58. For dinosaur and animal lovers, grab a ticket to the Discovery Park housing everything from an aquarium, Dino Park, seal shows, zoo and more.
WATERPARKS: SLIP'N'SLIDE
One question you will definitely be asking yourself is not just "What to do in Side Antalya?" but rather "What can't you do in Side?" With the amount of newly opened  family friendly resorts, there is no shortage of recreational fun aka  water parks. For some slip'n'slide, head to Aquajoy Su Parkı, one of the largest water themed parks offering 13 water activities .  If its too full families can head 2.3 Km south east to Nashira Aquapark  Kurumsal which also offers many slides and activities just a bit nearer to the sea.
SAFARI & WHITE WATER RAFTING
For guests hoping to cool off and spend a day exploring the terrain of Side, hop into a jeep or atv on a guided off-road safari adventure in the Taurus Mountains. Choose your choice of vehicle from Buggys to Quad Bikes to Jeeps.  Prices can range from 430TL all the way up to 800 TL per person. If you are in for more of a drive, head towards Koprulu Canyon for some River and White Water Rafting.
For some Rest & Relaxion, head to the Turkish Hammams.  Hailing good reviews and frequented by many  Sultan Hammam is perfect if you just want to be in and out. For more of an experience try Q Spa & Wellness Hammam which offers a variety of services  from Steam Rooms and massage services to GTOS Therapy with Pool and Fitness  Amenities. Prices for Turkish Baths begin at € 30.
Where To Eat In Side, Antalya
After a long day in the sun, nothing sounds better than a chilled Efes beer and a nice burger. For a bite with a view grab a table at the Bali Café & Boutique which faces the sea. For some French and international cuisine head on the outskirts of  town to  Conny's, known for their steaks. Fancy a hidden gem or a more intimate dining experience book a reservation at Tas Konak Restaurant, a stone house mansion restaurant serving Anatolian cuisine accompanied with live music to the Sufi Whirling Dervishes.
Where To Stay In Side, Antalya
As of March this year many new inclusive resorts have opened in Side. So no matter who you are travelling with you are no short of options.
Oz Hotels Side Premium : Business, Pleasure and a Whole Lot of Fun
Only 55 km from the Antalya Airport newly opened in March of this year this 5 star Family Friendly Luxurious Resort features a state of the art spa and hammam services with an indoor pool, a Wizard of Oz Kids Kingdom play area and a 2000 square meter Convention Center. The Convention is one of the largest Meeting Centers in the region with 3 Meeting Rooms, 5 Workshops, and 1 big foyer. Prices start from 1,690 turkish liras.
Barut Hemera
Internationally awarded & recognized, this resort is perfect for  honeymooners, couple retreats and spa lovers with its state of the Art Spa and packages. Honeymooners can enjoy unlimited privileges from photographers to candlelit dinners while couples can enjoy a VIP Spa Package. Spa Services are available to children as well and can include everything from Indian Head to Chocolate Massages. Their spa facilities are highly equipped. Open year round.
Paloma Hotels: 3 Branches in Side
Paloma Orenda
Aimed towards guests with luxurious taste who like to sail and play tennis. 6 km from Side City Center, and 75 km from the airport you can lounge in the cabanas on the  private beach, play some tennis, sail on a gorgeous catamaran, and stroll through their 8 acres of unique gardens.
Paloma Perissia  
A bit bigger then the Paloma Orenda with 70 more rooms, this branch offers beach volleyball and archery as well as tennis with an a la carte dining experience, indoor pool, and Palomaaqua featuring 12 adult sides, splash world and Turkeys first slide with VR Glasses. 
Paloma Oceana
The largest of the three with over 480 rooms and the most ideal for families and children. Featuring the Lake Villas housed with their own private pools. Connected family rooms available with the Polly Kids Club and a children's special chef.
Top rated attractions in Side, Antalya
Vacationing seaside in Turkiye bring two types of experiences. Sunbathing under the sun lit white straw umbrellas and of course exploring the ancient ruins.
Temple Of Apollo & Athena
Starting with the most visited landmark is the Temple of Apollo & Athena dedicated to Apollo the God of Sun and Light. Head there before sunset to capture some beautiful photos.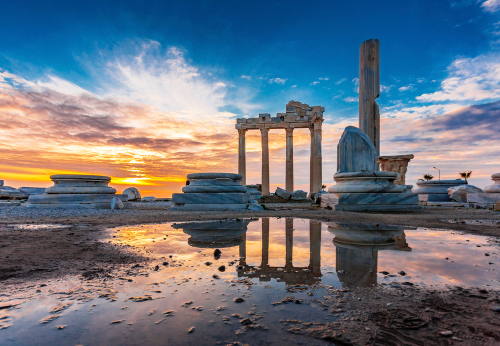 Side Amphitheater, built in 2nd AD by the Romans  existed as a cultural art center being used as an arena for animal and gladiator fights then a  stage for shows and plays. By the time the Byzantium era arrived it transformed into a open church space for Christian rituals. Free Music concerts are held here in the summer.
Side's Archaeological Museum – Roman Bathhouse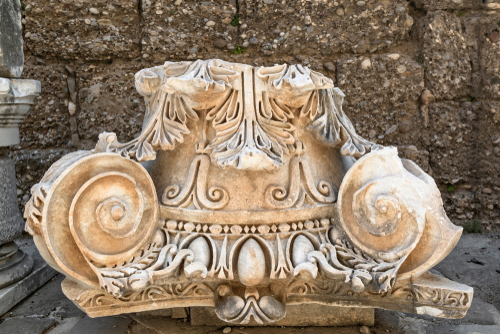 On the ever so rare occasion it rains, escape indoors to Side Archaeological Museum Sides or Roman Bathhouse located a block away from the Tike Tapınağı Ruins. The museum is housed in a 2000 year old Roman Bath Building and carries a curated selection of ancient artifacts from the basalt craters, marble coffins, Sculptures of Hercules and Hermes, ancient coins, weapons and jewelry.
Play little Mermaid and escape "under da sea" to Side's Underwater Museum, the 2nd largest underwater museum in the world.  Explore 117 Anatolian sculptures like the 50 ton Poseidon Statue 1.5 miles off the coast of Side.  Prices start at 45 Euro or 817 Turkish Liras. Book your tickets in advance at the Side Harbor or online.
If you are up for a more of an adventure head to the Manavgat Waterfall roughly 11 km from Downtown. It sits on the Manavgat River which originates from the Taurus Mountains or as the Greeks called it Melas. Hydrate and get some shade by the Tea Gardens or grab a boat tour along the Manavgat River.
Altınbeşik Cave National Park
Head 54 km north from the Manavgat Waterfalls  to Europe's third largest under water cave and one of the world's most unique subterranean lakes : Altınbeşik Cave. Belonging to a National Park, established only more then 25 years ago, it is located in the Ibradi district of Antalya beholding ancient limestone and  rich flora.  Not without its recognitions for its biodiversity, the World Wild Fund for Nature (WWF) identified this terrain as 1 of 100 of "The Hot Spots of European Forests." Nature lovers, make sure to mark this off your top-rated attractions in Side list as the park is only open in the Summer and Fall. Ticket prices range from $30-$40 US dollars.