Oktoberfest is a festival held in Munich, Bavaria, Germany and attended by a total of 6 million people. The purpose of this annual festival is to celebrate the arrival of October by moving from the last days of September to the first days of October. Oktoberfest lasts 16 days and includes the first Sunday of October. The festival is held on Theresienwiese, which is usually called "d' Wiesn" or "d'Waasn" for short in German. Oktoberfest beer is particularly brewed because it is a bit dark and strong, both in taste and alcohol. This huge beer is served in special one-liter glasses called Maßdenen. Inside the festival area, Bierzelt, special beer, is made in huge tents that can fit thousands of people.
Oktoberfest 2022 will start on Saturday, September 17th this year in Munich and will end on Monday, October 3rd. Here are 12 tips to best face the biggest and longest beer festival in the world.
If you need a car to get to the Oktoberfest, you can check out Yolcu360's Munich car rental options and easily rent a car within minutes!
The Oktoberfest has a specific vocabulary: the pint of beer, for example, is called Maß and contains one liter of beer. We toast to the cry of "Prost". Warning: do not call it "Oktoberfest" (only tourists do it). The natives call it Wiesn, in reference to Theresienwiese, the place where the festival is held each year.
Closed shoes will be your friends
Every year, more than six million people come to the Munich Oktoberfest and be sure that at least one of them will step on your toes. Therefore, the best thing to do is to wear good closed shoes or boots (it is better to avoid heels).
The Germans wear traditional clothes in the local brasseries on the weekends, so they will undoubtedly make it big for the occasion. If you don't want to spend too much money on an outfit you'll only be wearing for a few days, local thrift stores or discount stores like T.K:Maxx and Aldi might have something for you.
But, if you have time, head to one of Munich's vintage thrift shops to find an authentic second-hand suit for much less. If you don't plan to return to the festival every year and don't want to spend too much, do as most visitors do and dress normally.
Very important info for women: where you tie your dirndl has significance during Oktoberfest. Left means you are single, right means you are in a relationship.
Unless you are one of the first people to enter the festival area in the morning at dawn, you will not find any seats in the tables under the tents without reservations. Central reservation system is not available, so you need to contact the manager of the tent you have chosen. The official site has a list of useful contacts to make this all a bit easier.
Never Leave Your Table Unattended
You managed to book a table or you were lucky enough to grab one: never leave it unattended or someone will rush to take it. Attendees line up as soon as it opens at 8 a.m. and all unreserved tables leave within minutes. And if you manage to get a table, you have to spend the rest of the day to avoid having your place taken. For an unplanned visit, it's better to come to the area on weekdays if you don't want to have problems because of the crowd. The price will cost 25 € per person, including 2 liters of beer and half a chicken. Some tents have to be rented months in advance.
If you have not reserved a table, you will have to start the queue 2 hours before the opening of the tents, to have the chance to get one. If you can, go to the festival during the week or eat outside and wait for it to calm down under one of the tents to have space (or not): outside the tents there are hundreds of cocktail stands and it's just as nice as inside.
The atmosphere is festive and everyone is a little tipsy. However, this does not allow you to disturb the people around you, especially the staff who work hard all day and who certainly do not want to socialize with drunk people.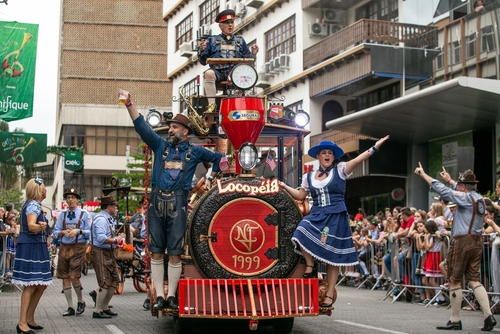 Try, if possible, to get there on foot. Public transport – especially the U-Bahn – is always crowded and it is often quicker to walk. On the way, have a beer at a "späti" (the local grocer) to get you in the mood and start your day off right.
Thinking of bringing home a glass as a souvenir? Not a good idea, unless you want to be accused of theft. You can, however, buy a collector's glass.
One of the specialties of Oktoberfest is big cookies. Everyone usually wears these cookies around their necks with the words 'You're so cute', 'I love you', 'I'm a princess' etc.
Make Sure You Always Have Cash
Some stands and tents do not accept credit cards, so be sure to take some cash with you, at least 50€ per person for food and drinks. There are many distributors on site but sometimes they run out of tickets. The budget for your stay depends on what you eat and drink. Admission to Oktoberfest was always 100% free. As for the drink prices, a liter of beer is around 12-13 Euros. Prices for soft drinks are less.
Meals vary by tent, and in some, like the Käfer tent, in more luxurious tents it's served in huge platters, from charcuterie plate to allowance.
Too many people only means less space and ever longer queues. Police may at times close entrances when it gets too crowded. If this happens to you, until the crowd begins to disperse, only visitors who have reserved a place in a tent can enter. The same rule applies to every tent. Doors can be closed at any time if it starts to get really crowded. When a certain number of visitors leave, the same number of people can then enter. If you need a break from the crowds and tents, head to the Bavaria Beer Garden which is right next to the festival. It's a little less hectic, but the atmosphere is still nice and the food and drinks arrive faster than in the tents.
Enjoy The View By Taking to the Skies
You can enjoy the best views from the Ferris wheel or, if you're brave enough, by taking a ride on the carousel.
All tents except one close at 11:30 p.m. If you want to continue the evening beyond, head to Käfer Wiesn-Schänke or go wine at Kufflers Weinzelt.
Oktoberfest is an extraordinary festival and an exciting event. Each Oktoberfest seems to surpass the last. Beer lover or not, there's always something for you at Oktoberfest. You can also have fun on roller coasters and amusement parks. Relax, experience the wonderful German culture and above all, have as much fun as you can.